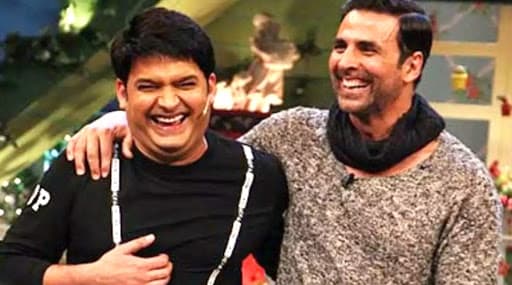 The Kapil Sharma Show has always been the bed for many promotional activities. Actors have made fun of themselves and others on the show with the comedian-action sharing a few puns. The show has been getting good ratings as it is one of the most watched shows on TV. But not all celebrities are easy to please. However, Kapil has figured how to keep Akshay happy when he comes to promoting Housefull 4 or any of his movies on the show. Mogul: From Varun Dhawan, Akshay Kumar to Kapil Sharma – A List of actors Aamir Khan Approached to play Gulshan Kumar in his Biopic
Kapil tweeted, "जल्दी उठने से मन खुश रहता है  और बहुत जल्दी उठने से अक्षय कुमार  shooting with the boss @akshaykumar  love u paji #Housefull4 on #TheKapilSharmaShow #Housefull4onTKSS" So if you want to keep him happy, wake up earlier than the usual. Noted!
The whole cast of Housefull 4 was on TKSS a few days back and pictures suggest they had great fun.
Yeah #TheKapilSharmaShow bhi #Housefull4 ho gaya.... @akshaykumar @kritisanon @thedeol @kriti_official @hegdepooja @ChunkyThePanday @KapilSharmaK9 pic.twitter.com/kurGTtHfyv

— Riteish Deshmukh (@Riteishd) October 16, 2019
जल्दी उठने से मन खुश रहता है 😊 और बहुत जल्दी उठने से अक्षय कुमार 😐 shooting with the boss @akshaykumar love u paji 🤗 #Housefull4 on #TheKapilSharmaShow #Housefull4onTKSS 🤗🙏

— Kapil Sharma (@KapilSharmaK9) October 16, 2019