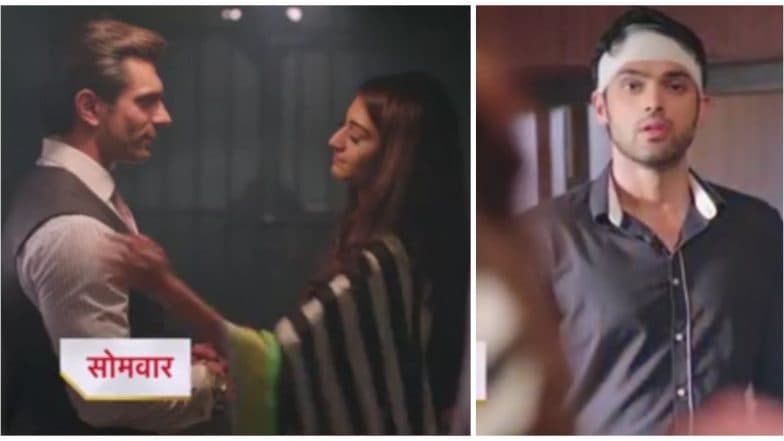 In yesterday's episode of Kasautii Zindagii Kay 2, we saw Mr Bajaj surrenders to the police when an infuriated Prerna accuses him of planning Anurag's murder. Meanwhile, Sharda's revelation stuns Mohini. Tonight's episode starts with Mehra coming to the police station with the bail papers. Rishab (Karan Singh Grover) sits in the lockup and recalls Prerna's words. Mehra comes and asks him why did he do this, and tells him to sign the papers and come with him. Mr Bajaj says he does not want to come out and he does not want a bail.  Bajaj says he does not want to go home with this blame. On the other hand,  Prerna (Erica Fernandes) cries and says she did not know Mr Bajaj will do this, he promised her that he won't harm Anurag (Parth Samthaan). Shivani asks what to promise. Prerna says she meant she got to know from Anupam about Mr Bajaj and Anurag's fight, Mr Bajaj threatened him. Shivani says he can do anything, but how can she trust him. Kasautii Zindagii Kay 2 September 19, 2019 Written Update Full Episode: Mr Bajaj Surrenders Himself and Requests Prerna to Take Care of Kuki
Meanwhile, Mohini tells Anurag that Mr Bajaj did his accident in anger, as he loves Prerna, and she is responsible for this. Anurag makes her understand that she cannot blame her as because of her he is alive today. Mohini gets emotional and cries and asks does he not love her, Anurag says he loves her but the love he has for Prerna is beyond love. Mohini says she will get a girl like Prerna for him, Anurag says no need actually he will have this Prerna only.
Later, Veena tells Prerna that they cannot do anything and that Bajaj will have to face the punishment. Sharda comes and tells she hoped that they will support Bajaj. Prerna says she will only support who is right and if he is guilty then he has to get the punishment. Sharda argues with Prerna and tells Bajaj always supported her and now when he is in trouble she should help him and leaves. Kasautii Zindagii Kay 2's Cast Including Hina Khan, Shows Up For Parth Samthaan's Housewarming Party, Ex- Girlfriend Erica Fernandes Misses The Celebrations!
On the other hand, Mehra comes to Basu household, Sharda asks where is Bajaj, he tells them that he does not want to come. Prerna overhears them. Mehra says, Mr Bajaj didn't sign on bail papers, he is adamant that he doesn't want to come out.
Anurag sees Prerna and goes to meet her. Prerna says she is happy for him as he is fine. Anurag says she is the reason for his living. Anurag tells her that the doctors told him how she helped him to get well. Prerna says that she is not important for some people but everyone is important to her and she can go to any extent to save them. Prerna says she just saved his life as his life is more precious and that it is not that she wants him back in her life. Anurag gets angry and tells her to keep this thought for Bajaj and he just wants her love and nothing else. Prerna gets emotional and goes from there. Meanwhile, Anurag thinks he will find out why Prerna married Bajaj as her heart still longs for him.
In the next episode, Prerna tells Bajaj that he got arrested but never once did he accept his mistake. Meanwhile, Mohini tells her friends that she wants a girl who will accept Anurag with his past.