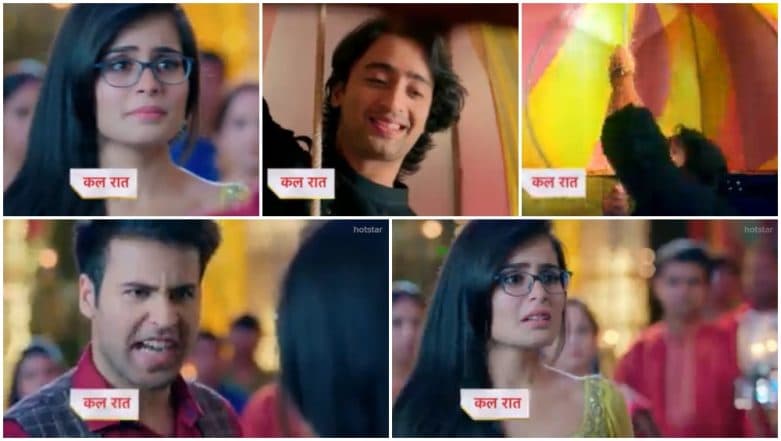 On one hand, while Star Plus' Yeh Rishta Kya Kehlata Hai is all set to appease fans with the much-awaited KaIra (Kartik and Naira) milan, its spin-off will see some extremely sad moments in the upcoming episodes of the show. Yeh Rishtey Hain Pyaar Ke will soon see the cruel separation of its lead pair Abir (Shaheer Sheikh) and Mishti (Rhea Sharma). And we say cruel because the catalyst in their separation will be Kunal (Ritvik Arora) and he won't be subtle about his elimination of Mishti from his brother's life. Yeh Rishtey Hain Pyaar Ke: Kunal Finally Breaks Kuhu's Heart and Tells Her He Does Not Love Her, The Latter Returns To The Maheshwari Household!
As we already saw, how during Kuhu's (Kaveri Priyam) bidaai, Kunal warns Mishti that her sister will return to them after failing in her marriage. He then reveals it all to Kuhu that the marriage was forced on him and was all a plot (but does not reveal that it was to save Abir). As per the on-going storyline, Abir, Mishti, Kunal and Kuhu are in Mumbai for the former's Ganesh Utsav celebrations, where while Abir and Mishti are busy moving their relationship forward, Kunal is busy plotting about how to prove Kuhu wrong in their marriage and take a divorce.
However, in the upcoming episodes, Mishti's attempt at impressing Abir kinda turn fatal when Abir will meet with an accident (or so we assume). Mishti plans a floral shower for Abir, but with the mechanism going wrong, her surprise gets ruined. However, on finding out about the same, Abir surprises Mishti by showering the flowers on her from above. However, the rope that he is holding on to breaks and we see Abir slip.
And while it is not clear if Abir is grievously hurt or not, Kunal yells at Mishti in front of the entire pandal and very harshly calls Mishti selfish and accuses her of only thinking and acting for her benefit. He then very rudely asks her to get out of Abir's life and a hurt Mishti looks on.