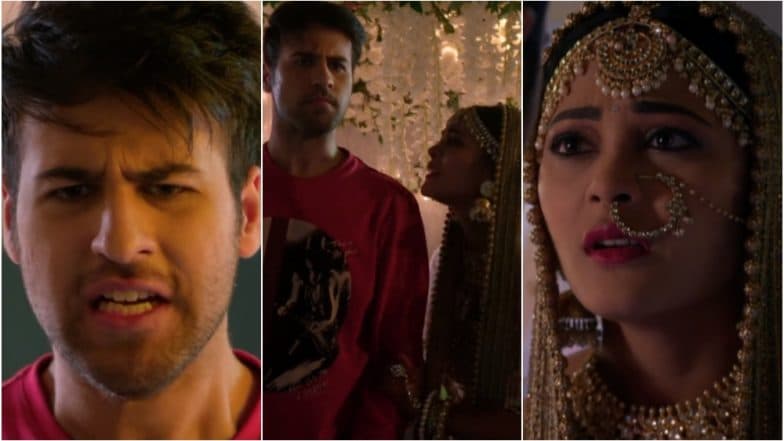 Drama galore is all that we can say for the upcoming episodes of Star Plus' Yeh Rishtey Hain Pyaar Ke. In Saturday's mahaepisode, we saw Kuhu (Kaveri Priyam) and Kunal (Ritvik Arora) get married, much to the former's happiness and the latter's disappointment. On the other hand, Kunal and Meenakshi's plan backfires in a major way with Abir (Shaheer Sheikh) and Mishti (Rhea Sharma) not only coming together but also with them professing their love for each other. To top it all, Abir also manages to convince Mishti to return to the wedding and she shows up, further angering Kunal and Meenakshi. Yeh Rishtey Hain Pyaar Ke August 13, 2019 Written Update Full Episode: While Everyone Is Upset with Mishti and Kuhu Thinks That Her Sister Is Jealous, Abir Suspects Something Fishy
And Kuhu bears the brunt of it all. Kunal remains as distracted as he was during his wedding ceremony, even while performing the post-marriage rituals. And while Kuhu eagerly awaits to celebrate her first night with Kunal, the latter sits brooding.
And just when Kuhu persuades Kunal to tell her what is bothering her, he tells Kuhu angrily that he never wished for their wedding to happen. Kunal goes on to reveal that their wedding was just a deal that he was supposed to break at the end moment, but it ended up with their marriage happening, which shocks Kuhu. Kunal keeps blaming Mishti and his mother for getting him married forcefully to Kuhu and he tells her that he never has and never will love her, leaving the latter traumatised. Shaheer Sheikh Opens Up On Yeh Rishtey Hain Pyaar Ke, Working with Producer Rajan Shahi and More…
However, Kuhu puts on a brave face the next day, when she goes to the Maheshwari mansion for her pagphera ritual. In fact, when Shaurya comes to pick Kuhu up from the Rajvansh Mansion, he questions her, but Kuhu lies and says that she is very happy. And on the other hand, clueless of all the happenings in Kunal and Kuhu's life, Abir and Mishti kick start their love life. Will Kuhu also blame Mishti for her married life falling apart? Will Abir and Mishti find out about Kunal and Kuhu being at odds?