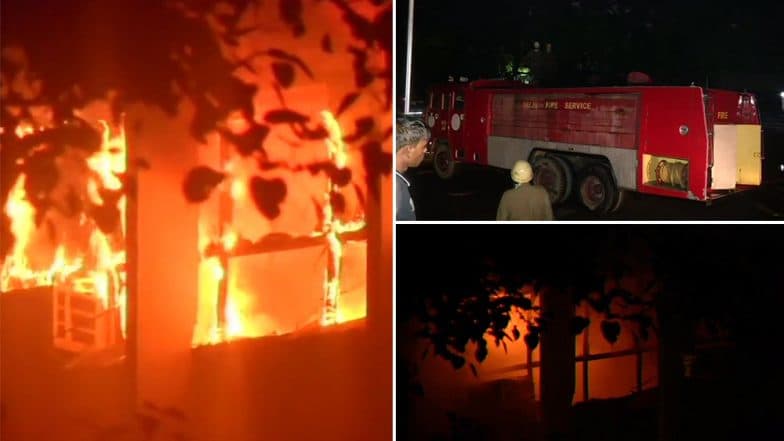 New Delhi, August 17: The fire that broke out in Delhi's AIIMS on Saturday has led to a massive fire-fighting operation at India's premier medical institue. The news of fire led to speculations on BJP leader Arun Jailtey. However, doctors at AIIMS said that Jailtey is safe and that his ward is not in the way of danger due to fire. The BJP leader and the former Union Minister has been admitted to AIIMS and has been critical for the past few days. On Saturday evening, fire broke out at AIIMS causing panic among patients and doctors. Delhi: Fire Breaks Out at AIIMS, 34 Fire Tenders Pressed to Douse Off Flames.
The fire on the second and third floor was caused due to short circuit. About 40-50 fire ambulance are trying hard to get rid of the fire. Several patients and hospital staff was moved to save them from the raging flames. Arun Jaitley Health Update: Home Minister Amit Shah, UP CM Yogi Adityanath and Health Minister Harsh Vardhan Visit AIIMS.
Sources said the fire spread to the adjacent Emergency Lab in the department of Lab Medicine, which is adjacent to the Microbiology department's virology unit, where electricity work was going on for some time and cables being used were kept, reported ANI.
AIIMS was the center of attention for past few days as former Union Minister Arun Jaitley has been admitted and critical. Home Minister Amit Shah, health minister Harsh Vardhan and Uttar Pradesh Chief Minister Yogi Adityanath visited AIIMS on Friday night as BJP leader Arun Jaitley remains critical.
Earlier, President Ram Nath Kovind visited AIIMS to check upon the ailing BJP leader who is said to be on life-support.
Arun Jaitley was admitted to AIIMS on August 9 after he complained of breathing issues, uneasiness and weakness. However, the former Union Minister's health deteriorated and grew serious over the past two days. In 2014, he had undergone a bariatric surgery which led to him rapidly losing weight. Jaitley has also been battling diabetes for nearly two decades.