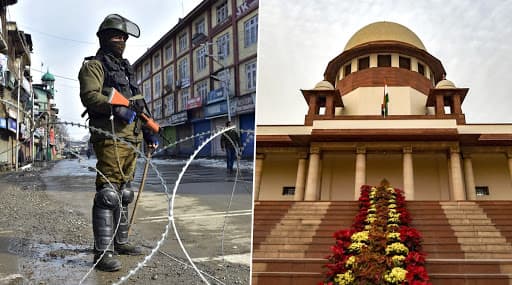 New Delhi, September 30: The Supreme Court on Monday sent the plea of Kashmir Times Executive Editor Anuradha Bhasin -- seeking the removal of communication blockade in Kashmir, post Article 370 abrogation -- to a constitutional bench. Justice NV Ramana would head the hearing on Tuesday. In the plea, Bhasin and others had sought free movement of journalists and press in Kashmir.
Earlier in the day, Chief Justice India Ranjan Gogoi with Justices SA Bobde and S Abdul Nazeer -- while hearing the plea -- directed that all the petitions related to Kashmir should be placed before the "Kashmir Bench". The three-judge bench of Supreme Court shifted the matter to Kashmir Bench which comprises NV Ramana, Sanjay Kishan Kaul, R Subhash Reddy, Bhushan Gavai and Surya Kant. Bilkis Bano Gangrape Case: Supreme Court Directs Gujarat Government to Pay Rs 50 Lakh Compensation, Job to 2002 Riots Victim within Two Weeks.
Apart from the petition filed by Bhasin, the Supreme Court also placed the fresh petition of CPI (M) leader Mohammad Yusuf Tarigami -- challenging the validity of the revocation of Article 370 -- under the Kashmir Bench. The hearing in all the petitions will begin on Tuesday morning.  Amit Shah Justifies Restrictions in Jammu and Kashmir Post Article 370 Abrogation, Says 'Time Has Come That Correct History is Written'.
Earlier, the apex court dismissed the habeas corpus petition of MDMK leader Vaiko who sought the release of former Jammu and Kashmir Chief Minister Farooq Abdullah. The latter was detained under the J&K Public Safety Act by the Union government on September 16. Also, the Union Home Ministry is mulling prosecuting sanctions under the Unlawful Activities (Prevention) Act of Jammu and Kashmir Liberation Front (JKLF) chairman Yasin Malik, Dukhtaran-e-Millat chief Asiya Andrabi and All Party Hurriyat Conference general secretary Masarat Alam.