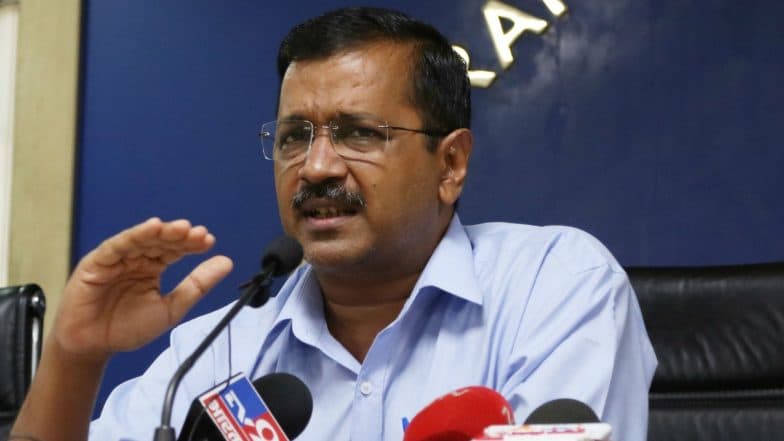 New Delhi, August 27: Delhi Chief Minister Arvind Kejriwal has lauded his government's efforts towards bridging the rich-poor divide towards availing quality education, stating the policies are fulfilling the vision of BR Ambedkar, the architect of Indian Constitution. To validate his claim, Kejriwal pointed out the admission secured by a tailor's son in the Indian Institute of Technology (IIT), after becoming a beneficiary of the free coaching classes provided by the state government.
"Vijay Kumar's father is a tailor, his mother is a house wife. I am feeling happy to announce that he has got admission in IIT after the Delhi government provided free coaching for him. This is Baba Saheb's (BR Ambedkar) vision which is being fulfilled by Delhi" Mr Kejriwal said on Twitter. AAP Government to Pay Exam Fees for its School Students
Kejriwal further pointed that the economic disparity is being abrogated, as his son -- though belonging to the Chief Minister's family -- would be studying in the same IIT institute where the son of a tailor would be enrolled.
See Arvind Kejriwal's Tweet Below:
मुझे बेहद ख़ुशी है कि इस वर्ष मेरा बेटा और इनका बेटा दोनों एक साथ IIT में जा रहे हैं। बरसों से ये प्रथा चली आ रही थी कि ग़रीब का बेटा अच्छी शिक्षा के अभाव में ग़रीब रहने पर मजबूर था। अब सबको अच्छी शिक्षा और ट्रेनिंग देकर हमने ग़रीब और अमीर के बीच की दूरी दूर की है https://t.co/UCCFJCkw7c

— Arvind Kejriwal (@ArvindKejriwal) August 27, 2019
Delhi government's education policy has widely drawn praise, with municipal schools recording a higher pass percentage in both Class 10th and 12th board examinations for four years in a row.
Recently, the Manish Sisodia-headed Education department of Delhi government drew applause after introducing the "happiness" classes -- which help students to cope with stress from an early age.