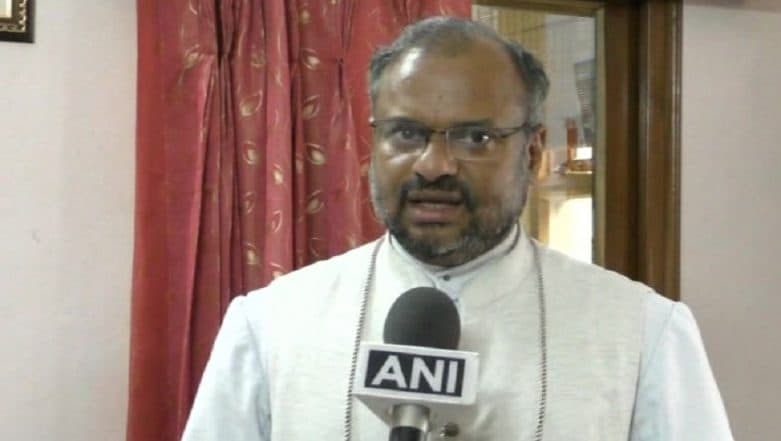 Thiruvananthapuram, Sept 22: Following his arrest last night, former Bishop Franco Mulakkal was produced before a local court in Kerala, which sent him to two-day police remand. The bail application, moved by Mulakkal's counsel, was dismissed by the court as the Kerala High Court is scheduled to hear the same on September 25.
The Kottayam police, which produced Mulakkal before the judicial first class magistrate court in Pala, had sought a three-day custody. The defence counsel opposed the move, saying that the accused has already been questioned for three consecutive days. Kerala Nun Rape Case: Bishop Franco Mulakkal Arrested After 3rd Day of Questioning.
The prosecution, however, said Mulakkal's custody is necessitated for the collection of evidence and to conduct tests on him, including potency examination.
#WATCH Former Bishop of Jalandhar, Franco Mulakkal, being taken into police custody, at magistrate court in #Kerala's Kottayam. pic.twitter.com/GkbMiQKov1

— ANI (@ANI) September 22, 2018
Mulakkal's arrest came late on Friday, nearly three months after the police complaint was registered against him by a Kerala-based nun.
The victim, 43, has accused the ex-Bishop of raping her 12 times between 2014 to 2016. She had filed the FIR on June 27, after the Church had reportedly refrained from acting against Mulakkal.
On Thursday, the Vatican had ordered the temporary termination of Mulakkal as the Bishop of the Jalandhar Church. The decision was taken by Pope Francis, who decided to relieve Mulakkal of his duties till the court issues the verdict in his case.
As per the charge sheet prepared by the Kottayam police, Mulakkal has been booked under IPC sections 342 (wrongful confinement), 376 (rape), 377 (unnatural offence) and 560 (1) (criminal intimidation).
Mulakkal has so far denied the allegations levelled against him, claiming that he is being framed by the nun on the "behest of anti-Church forces".