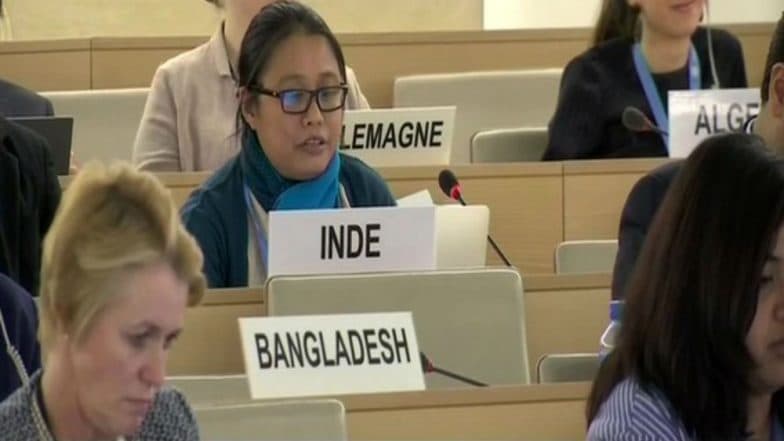 New Delhi, September 13: India and Pakistan continued to spar over the issue of Kashmir at the United Nations Human Rights Council (UNHRC) on Friday. Exercising the right to reply, the Indian delegation effectively refuted the allegations of rights' violations in Jammu & Kashmir. On the contrary, New Delhi pointed out, Islamabad has been committing atrocities in the country's peripheries, including Sindh, Balochistan, Khyber Pakhtunkhwa and Pakistan-occupied-Kashmir (PoK). Protests Against Pakistan Army: Baloch & Sindhi Activists Stage Demonstrations At Broken Chair Outside UN Office Over Enforced Disappearances.
"We will advise Pakistan to look into its own cases of enforced disappearances and extrajudicial killings which are in millions, particularly in Pakistan Occupied Jammu and Kashmir, Khyber Pakhtunkhwa, Balochistan and Sindh," said Kumam Mini Devi, second Secretary in India's Permanent Mission at UNHRC.
On the charge of Indian Army detaining dozens in overnight raids in the Valley, Devi said the that country's security forces hold high regard for human rights and ensure they are protected.
Residents of Jammu & Kashmir have enmasse expressed support towards the recent measures taken by the Narendra Modi government to integrate them with India, she pointed out. Pakistan, Devi added, has been unsuccessfully attempting to rake unrest in the Valley through a black propaganda.
"It's not surprising that Pakistan continues its blatant misrepresentation of facts and false narratives," she said, further adding that the Pakistani government should recognise India's sovereign right to pass and implement laws in any part of its integral territory.
"We'll also advise Pakistan to accept the reality that Article 370 is entirely an internal matter of India. All Pakistan's hysterical statements with false, fabricated narratives are not going to change this fact," Devi noted.
"Kumam Mini Devi during India's right to reply at 42nd UNHCR session: History has witnessed that the people of Jammu and Kashmir as citizens of India, have repeatedly reposed their faith in Indian democracy by actively participating in free and fair elections held at all levels," the top Indian diplomat further added.