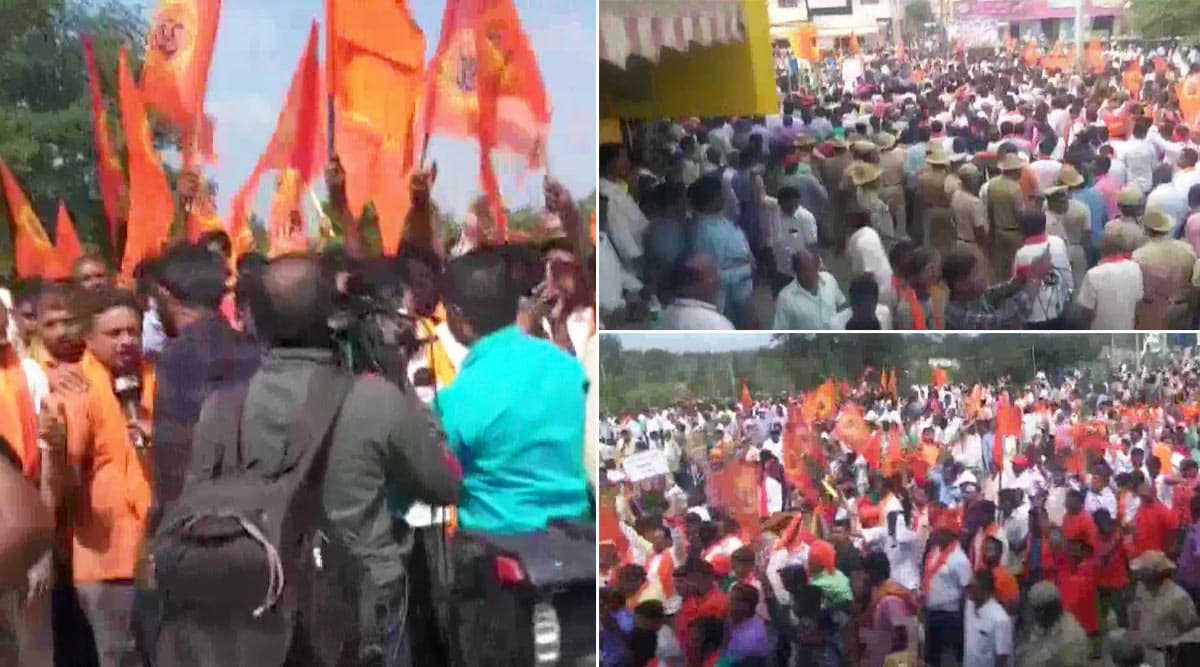 Bengaluru, January 13: Members of RSS (Rashtriya Swayamsevak Sangh), Vishwa Hindu Parishad (VHP) and Hindu Jagaran Vedike protested against the construction of a 114-ft tall Jesus Christ statue in Kanakapura. Earlier, the Bharatiya Janata Party (BJP) had raised objections to senior Congress leader DK Shivakumar "donating" 10-acre land for the construction of world's tallest statue of Jesus Christ at Kapalaa Hills of Haarobele village in Kanakapura taluk. Karnataka: Political Storm Breaks Out Over Congress Leader DK Shivakumar 'Donating' Land For Tallest Christ Statue, BJP Govt Orders Inquiry in Land Deal.
The move by the senior Congress leader has raised a political storm in the state, with BJP leaders attacking Shivakumar and the Congress leader hitting back at BJP. The BJP state government has also ordered an inquiry into the land deal. However, Former Karnataka Minister and Congress MLA from Kanakapura DK Shivakumar on Monday said that the decision to construct a 114-ft tall Jesus Christ statue in his constituency was not his but that of the villagers.
"It is not my decision but that of the Christian community of the village, being the MLA I have to help. The land was given for it, everything is legal. I have been their legislator for the past 30 years, I have to support them," claimed Shivakumar, defending his decision.
See Pictures of Protests Below
Karnataka: Rashtriya Swayamsevak Sangh, Vishva Hindu Parishad, & Hindu Jagaran Vedike protest against the construction of 114-ft tall Jesus Christ statue in Kanakapura. https://t.co/aND6y8wERt pic.twitter.com/WbTZXa5nKb

— ANI (@ANI) January 13, 2020
The proposed 101-foot statue atop a 13-foot pedestal is coming up at Kapalibetta in Harobele village, a predominantly Christian locality. Shivakumar had with his own funds, purchased 10 acres of land at Kapalibetta from the government for the trust that is constructing the statue, his office has said, while claiming it would be the tallest monolithic statue of Jesus in the world.