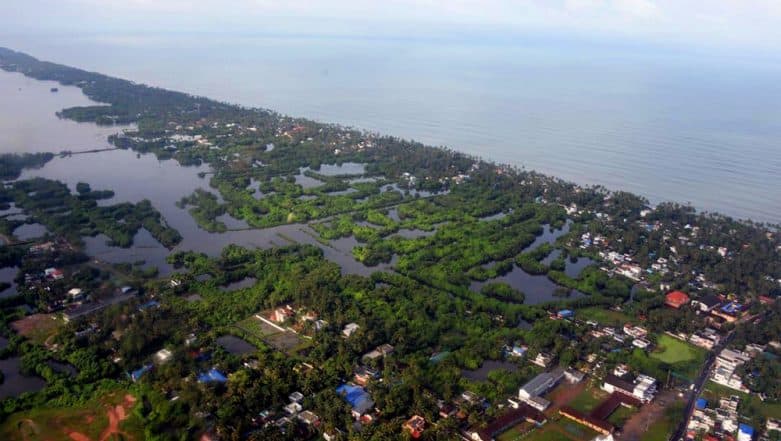 Kochi, August 12: Heavy rainfall, landslides and floods continued to wreak havoc in Kerala taking the death toll to 76 on Monday. According to Kerala State Disaster Management Authority (KSDMA), as many as 58 have been reported missing while 32 people have been injured due to flood-related incident across the state till August 11. In Malappuram district alone, 23 people have died followed by Kozhikode with 17 death and Wayanad with 12, the KSDMA data said. Kerala Rains: Red Alert Issued for Idukki, Malappuram, Kozhikode.
Reports inform that more than 2.54 lakh people have been displaced in relief camps. All the 14 districts in the state, except Kollam, have people taking shelter in over 1,600 relief camps. The Malappuram district, which is the worst-hit, has the largest number in camps with over 54,000 people.
The worst-affected areas are Meppadi in Wayanad and Kavalapara in Malappuram. Various rescue teams are working hard to recover bodies of those trapped. Kerala Chief Minister Pinarayi Vijayan told the media that compared to the floods in 2018, the intensity this time is not that bad and has affected fewer districts. Monsoon 2019: IMD Predicts Nationwide 'Normal' Rainfall For June to September Period.
Here's the tweet:
#KeralaFloods: Death toll rises to 76, due to flood-related incidents across the state. https://t.co/Cg4x1Vbygi

— ANI (@ANI) August 12, 2019
On Sunday, Wayanad Lok Sabha member and former Congress President Rahul Gandhi visited the flood-ravaged Wayanad, which has been badly hit by rains and flood waters. In the wake of the grim situation in the state, the National Disaster Relief Force (NDRF), Army and the local police are engaged in rescue operations. The Kochi airport, which was shut for two days was opened on Sunday. The airport was shut following excessive flow of water in the Periyar river entering the premises.