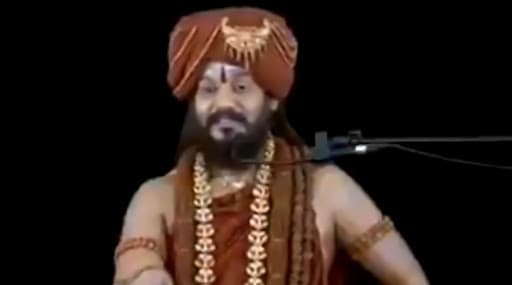 New Delhi, December 6: With the Union Ministry of External Affairs dismissing the possibility of a sovereign nation by the rape-accused godman, a new video a surfaced on social media where Nithyananda has surfaced where he is seen declaring that 'nobody can touch me' and that no court can prosecute him. The controversial self-declared godman is wanted in a case of kidnapping and wrongful confinement of children at his Ahmedabad ashram by Gujarat Police.
The viral video -- in wide circulation on social media since November 22 -- shows Nithyananda giving a sermon from an undisclosed location. In the video, he can be heard saying, "I will show my integrity to you by revealing the reality and truth to you. Now nobody can touch me, I can tell you the truth - I am Param Shiva. Understand? No stupid court can prosecute me for revealing the truth. I am Param Shiva." Nithyananda's Whereabouts Being Traced, Passport Already Cancelled: MEA Reacts to Self-Styled Godman's Bid to Form 'Kailaasa' Nation.
Here's the Viral Video:
"No judiciary can touch me. M param shiva"

: #NithyanandaSwami from an undisclosed location. pic.twitter.com/WXdZ6bGCdO

— Divesh Singh (@YippeekiYay_DH) November 22, 2019
Adding more, he can be heard saying, "By being here you declared your integrity and allegiance to me... I promise you, no more death for you all." Though Nithyananda had earlier called for a separate country on a remote island in Ecuador, the Ecuadorian government has denied granting him asylum or right to purchase any land in the South American country. Embassy of Ecuador even stated that Nithyananda had left the country for Haiti.
Meanwhile, MEA spokesperson Raveesh Kumar, during the press briefing on Friday, said the passport of Nithyanand already stands cancelled, and Indian agencies are rigorously searching his location. The foreign counterparts are also being roped in to ascertain his whereabouts, he said.
He said, "Do you really expect me to answer on a person forming a country. Making a website is different from forming a country, we've cancelled his passport first. He applied for a fresh passport, it is very difficult to speculate on his whereabouts," Kumar told reporters.
"We have cancelled his passport and rejected his application for the new one. We've sensitized all our missions and posts that this man is wanted in several cases of crime. We have asked our missions to sensitize the local government," he added.