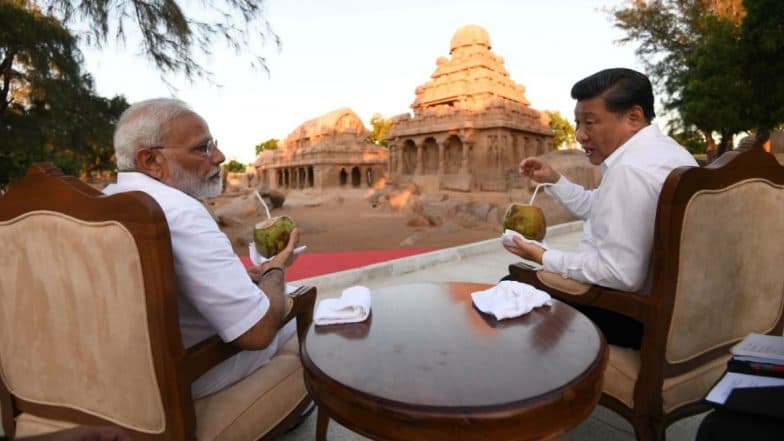 Chennai, October 12: Prime Minister Narendra Modi and Chinese President Xi Jinping will hold their second round of informal talks today. According to the schedule finalised by India and China, PM Narendra Modi will hold a comprehensive one-on-one meeting with Xi Jinping for about 40 minutes in the morning at the Taj Fisherman's Cove Resort and Spa. The meeting will be followed by delegation-level talks. PM Modi, Xi Jinping Spent 5-Hour Quality Time, Discussed Trade and Terrorism: MEA After Day 1 of Malappuram Summit.
The second Informal India-China Summit will end with lunch hosted by PM Modi for President Jinping and both the sides will be issuing separate statements. In the afternoon Jinping will fly out of India. The two leaders arrived in Mahabalipuram, now known as Mamallapuram, on Friday for the second Informal India-China Summit. PM Modi took President Jinping to a sight-seeing at the famous world heritage sites of Arjuna's Penance, Krishna's Butterball, the Pancha Ratha and Shore Temple. Malappuram Summit: Mutton, Lobster in Dinner For Xi Jinping Hosted by PM Narendra Modi.
Briefing the media about the discussions Modi and Xi had on Friday, Indian Foreign Secretary Vijay Gokhale said the two leaders had detailed discussions on varied issues, including terrorism, increasing radicalisation, enhancing bilateral trade between the two nations and investments, among others. The bilateral trade between India and China is about $87 billion. The trade deficit is on India's side.
"The discussion stressed over 150 minutes and it was well beyond the planned time for conversation. The discussions were very open and cordial. This was quality time that the two leaders spent together one-on-one," Gokhle said. PM Modi and President Jinping also agreed to enhance cultural tie-ups and knowledge sharing besides speaking about the ancient trade links that existed between the two countries.
PM Modi also hosted dinner for Xi Jinping. "Mamallapuram is one of the most beautiful places in India, full of vibrancy. It is linked to commerce, spirituality and is now a popular tourism centre. I am delighted that President Xi Jinping and I are spending time in this scenic place, which is also a @UNESCO heritage site," he tweeted after his dinner with Xi Jinping.