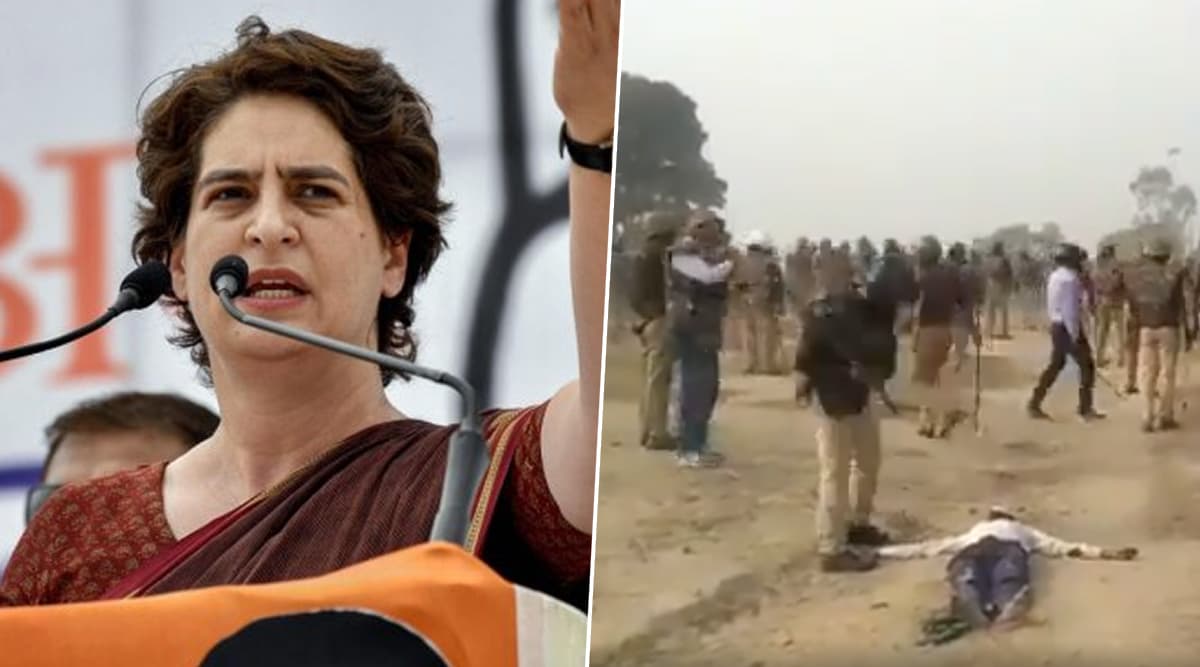 Lucknow, November 17: Congress General Secretary Priyanka Gandhi Vadra raised concerns over the use of force by police on the protesting farmers in Uttar Pradesh. She also raised questions on Uttar Pradesh chief minister Yogi Adityanath (without naming him) for not providing justice to the farmers when it comes to land acquisition compensation. On Sunday, violence continued in Uttar Pradesh for the second consecutive day, where farmers are protesting for higher compensation for the land acquired for a proposed township. Uttar Pradesh: Protesting Farmers Set Ablaze Pipe Near Power Station, Damage Several Vehicles at Trans Ganga City Project Site in Unnao.
"Are the CMs of Uttar Pradesh only able to deliver waxed speeches on farmers? Because in the BJP government there is insult to the farmers. In Unnao, the farmers who were demanding compensation for the land were beaten brutally by the police. Women farmers were also beaten. If farmers have taken land, then compensation will have to be paid," wrote Priyanka. She also shared a video showing police chasing away the protesting farmers.
See the Tweet Below
उप्र के CM क्या केवल किसानों पर लच्छेदार भाषण ही दे पाते हैं? क्योंकि भाजपा सरकार में किसानों का अपमान ही होता रहता है। उन्नाव में जमीन का मुआवज़ा माँग रहे किसानों की पुलिस ने बेरहमी से पिटाई कर दी। महिला किसानों को भी पीटा गया। किसानों की जमीन ली है तो मुआवजा तो देना ही होगा। pic.twitter.com/7vtvejf68z

— Priyanka Gandhi Vadra (@priyankagandhi) November 16, 2019
Another Tweet Shows Police Brutally Beating a Protestor
Can anyone believe this video is from Ram Rajya & the man being served by so many officers is the Annadata?

Unnao farmers are on protest to seek compensation for land pic.twitter.com/NZYwj23JZt

— Kanchan Srivastava (@Ms_Aflatoon) November 17, 2019
The Trans Ganga City is the planned satellite township in the Indian province of Uttar Pradesh in the Unnao district which comes under the Kanpur metropolitan area. Meanwhile, District Magistrate (DM) said that some miscreants are doing this. "We will go to villages&appeal to people to maintain peace. This is a deed of miscreants. We'll maintain peace & the work (Trans Ganga City project) will also go on", the DM added.