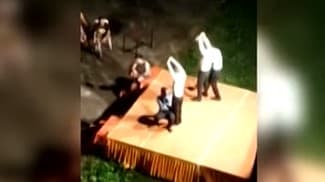 Sambalpur, August 22: Odisha government on Thursday ordered probe against several students of Veer Surendra Sai University of Technology (VSSUT). The action was taken after videos of alleged ragging by seniors of state-run engineering university, located at Burla in Sambalpur district, went viral on social media platforms. Ragging in UP Medical College: Nearly 150 First-Year MBBS Students Forced to Shave Heads, Salute Seniors As Mark of Respect; Watch Video.
Odisha Minister Premanand Nayak said that he has ordered a probe after senior students were seen ragging first and second-year students. "The Registrar of the university has been asked to conduct a probe and action will be taken after receiving the report," Nayak told Hindustan Times.
Ragging at VSSUT:
In the videos (date not confirmed) going viral, the senior students were seen ragging juniors. The clip also showed seniors slapping the juniors and forcing them to do pole dance while the latter posing as poles. The ragging horror doesn't stop there as freshers were made to dance in undergarments during the welcome ceremony.
Ragging is banned by the government and anyone found ragging can be expelled from the institute. According to a recent report by UGC, Odisha ranked fourth with 207 cases reported of campus ragging between 2013 and 2017. The report revealed that Uttar Pradesh has topped the list.