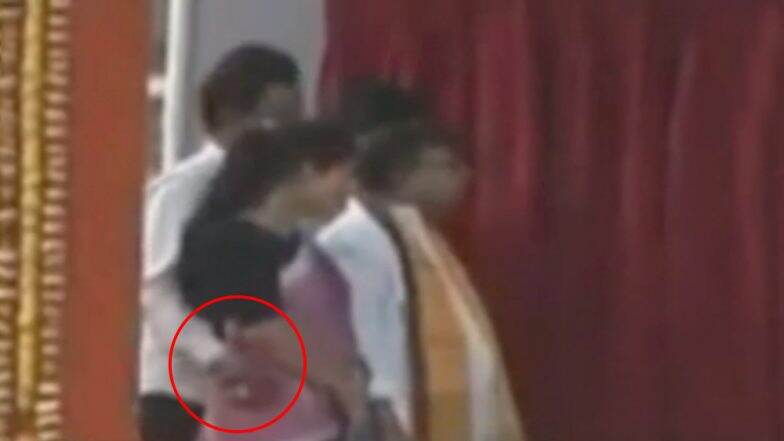 Agartala, February 12:  A video of a Tripura minister allegedly groping a female ministerial colleague on the stage in the presence of Prime Minister Narendra Modi has gone viral on social media. The video shows sports minister Manoj Kanti Deb touching social welfare minister Shantana Chakma inappropriately during an event held in Agartala where the Prime Minister inaugurated several projects. However, BJP's Tripura unit dismissed the video and called it a malicious campaign by opposition. The event was also attended by Tripura Chief Minister Biplab Deb. 'Smart Dress' Reveals Women Are Touched and Groped 40 Times in an Hour! Watch Shocking Video From Brazil. 
The incident sparked a major controversy with the opposition demanding that Deb should be fired and charged with sexual harassment. After the video of the incident went viral on social media, Tripura's opposition Left Front demanded that Deb should be sacked immediately for 'touching' the woman in an 'indecent manner'. According to reports, the ruling BJP dismissed the charge, hitting out at the Left Front for "character assassination". Home Guard in Kochi Touches Girls Inappropriately While on Duty, POCSO Slapped, Watch Viral Video. 
Watch Video:
Modi ji2,9,2019 ku tripura pucha oha

Ek udgatan pe tripura ki #bjpneta ki halat dekiye #santanachakma minister social welfare bar bar inki kamar par hat dalte #manojkantideb minister of youth affairs ek minister honeki bad khud suraksit nahi@abhisar_sharma @dhruv_rathee pic.twitter.com/oc0x2F8Aj8

— Zakaria Ahmed (@zakariaahmed332) February 10, 2019
According to a report by IANS, when the minister, who holds the Food, Youth Affairs and Sports portfolios, was contacted for his response, he denied to comment on the incident.
Left Front convener Bijan Dhar was quoted in reports saying that the minister has publicly harmed the modesty, sanctity and dignity of the lone woman minister of Tripura at a public platform where the Prime Minister, the Chief Minister and other top dignitaries were present. Dhar added saying that Deb must be sacked and be arrested for touching the woman minister in an extremely indecent manner on the stage from where Prime Minister Narendra Modi, Chief Minister Biplab Kumar Deb and others addressed the public gathering.