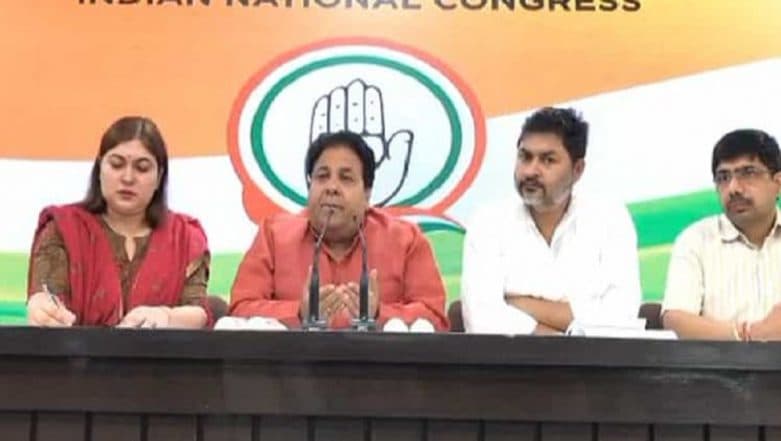 New Delhi, May 2: A total of six surgical strikes were carried out in the UPA era, when the government was headed by former Prime Minister Manmohan Singh, announced the Congress on Thursday with national security turning the prime issue in the ongoing Lok Sabha elections 2019. The party has also released details and images of the strikes carried out during their tenure, in a bid to counter PM Narendra Modi's claim on national security.
Between 2008 to 2014, claims the Congress, the Army had carried out six surgical strikes to crackdown on terrorist hubs in Pakistan. "We did not publicise them and resorted to chest-thumping," said Congress MP Rajiv Shukla, while addressing the press. Manmohan Singh: Surgical Strikes in UPA Era as Well, But Modi Government Using Army's Valour For Political Gains
The first terror strike was carried out on June 19, 2008, in Battal sector of Pakistan's Poonch. The second was executed in Neelum River Valley of Kel region, in Pakistan-occupied-Kashmir (PoK), between August 30 to September 1, 2011.
The third surgical strike was carried out on January 6, 2013, across the Sawan Patra check post. The fourth, on July 27-28 that year, in Nazapur sector. The fifth strike was carried out only 9 days later, on August 6, 2013, in Neelum River Valley.
The final cross-border raid under the UPA watch was executed on January 14, 2014, again in the Neelum River Valley region.
Watch Rajiv Shukla Releasing Details and Images of UPA Era Surgical Strikes:
LIVE: Press briefing by @ShuklaRajiv, former union minister and @NayakRagini, Spokesperson AICC. https://t.co/zyb0a3cLlg

— Congress Live (@INCIndiaLive) May 2, 2019
The Congress' list of surgical strikes under UPA watch comes a day after ex-PM Manmohan Singh, while speaking to a leading English daily, said his government had executed "multiple" surgical strikes, but never publicized them to reap political benefits.
On the contrary, added Manmohan, his successor Modi is "hiding behind" the valour of armed forces to hide his dismal performance on the economic front.