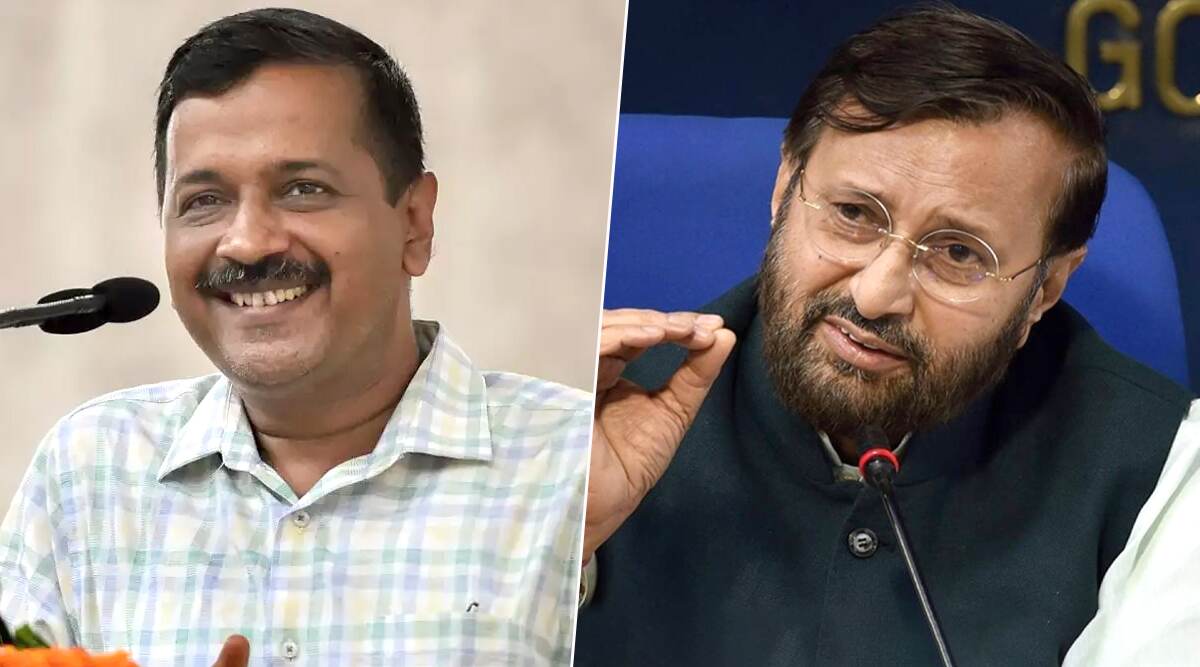 New Delhi, October 17: Days after the Centre demined him permission to attend the C40 climate summit in Denmark, Delhi Chief Minister Arvind Kejriwal took a swipe at the Bharatiya Janata Party (BJP) and Union Minister Prakash Javadekar. Addressing a gathering on Wednesday, Arvind Kejriwal asked what the Delhi government or Aam Aadmi Party (AAP) can do if BJP's mayor was not invited at the conference. MEA Defends Disapproving Arvind Kejriwal's Request to Attend Climate Summit in Denmark.
"Recently, I was invited to Denmark to talk about work done by the Delhi government for reducing air pollution. These (BJP) people didn't let me go. One of their ministers said that it is a mayor level conference, why is Kejriwal going? What can we do if their mayor isn't invited?" Kejriwal said apparently taking a dig at the BJP and Prakash Javadekar who said that the summit was meant for "mayor- and minister-level" participants. BJP Was Exposed in Front of World when It Refused Permission for Denmark Travel: Arvind Kejriwal.
"It was a mayor- and minister-level conference," Javadekar had said while justifying the Centre's decision not to grant permission to Kejriwal the attend the Denmark summit. The BJP has its mayor in all three municipal corporations in Delhi but one of them were invited. The C40 Summit, which connects more than 90 of the world's leading cities to take bold climate action, started in Denmark on October 9 and concluded on October 12.
The Ministry of External Affairs (MEA) denied permission to an eight-member delegation led by Kejriwal to fly to Copenhagen to be part of the event, saying that clearance from "political angel" has been denied and the conference is meant for Mayors, not for Chief Ministers. While Kejriwal was denied permission, West Bengal minister Firhad Hakeem was allowed to attend the summit.
"In the instant case, the participation of chief minister of the NCT of Delhi as a speaker at a panel discussion was not commensurate with the level of participation from other countries. The chief minister of one of the largest and populous cities in the world, which also is the capital of India, was, therefore, advised not to attend the event," MEA spokesperson Raveesh Kumar said.
The AAP had said that the government's stance was "incorrect, ill-informed and misleading". "Javadekar did not check the facts before speaking. Had he done so he would have known that in 2007 the then Delhi chief minister Sheila Dikshit had led a delegation for the C40 climate change summit, which was held in New York. Various mayors and chief ministers from around the world had participated in that summit," the party's national spokesperson Raghav Chadha said.