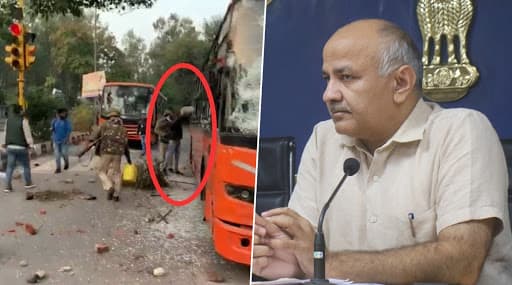 New Delhi, December 15: Delhi Deputy Chief Minister Manish Sisodia on Sunday questioned Delhi Police personnel's role in 'setting Delhi Transport Corporation buses on fire' during Jamia protests against Citizenship Amendment Act. Demanding a probe, he accused Bharatiya Janata Party for the violence and rampage in the national capital.
Aiming the role of BJP and the Delhi Police for inciting the violence and ramage in the national capital, Sisodia shared the image of Delhi Police personnel carrying yellow jar from beside the DTC bus and students being thrashed by the police personnel. He mentioned that BJP is behind the whole rampage and its masters might be directing the police to curb the students' protests. Delhi Police Entered Jamia Campus After CAA Protests Turned Violent, Thrashed Students and Staff: Chief Proctor Waseem Ahmed Khan.
Here's Sisodia's tweet:
इस बात की तुरंत निष्पक्ष जाँच होनी चाहिए कि बसों में आग लगने से पहले ये वर्दी वाले लोग बसों में पीले और सफ़ेद रंग वाली केन से क्या डाल रहे है.. ?

और ये किसके इशारे पर किया गया?

फ़ोटो में साफ़ दिख रहा है कि बीजेपी ने घटिया राजनीति करते हुए पुलिस से ये आग लगवाई है. https://t.co/8eaKitnhei

— Manish Sisodia (@msisodia) December 15, 2019
Earlier, Chief Proctor of Jamia Millia Islamia University stated that Delhi Police's personnel entered the varsity campus without permission and with force. He alleged that JMI staff and students were beaten, and forced to leave the campus, after which they were detained outside the gate. He said, "Police have entered the campus by force, no permission was given. Our staff and students are being beaten up and forced to leave the campus."
Also, Jamia Teachers Association condemn violence in south Delhi and issued a press statement. It said, "Jamia Teachers' Association condemn the violence in south Delhi, outside Jamia Millia Islamia. JTA is not part of any such violence. JTA also appeals to students, if any, to keep away from such direction-less protest lead by local political leaders. Jamia practices and preaches peace. JTA condemn all sort of violence near Jamia or anywhere in India." the JTA also called an emergency meeting of extended Executive Committee on Monday at 11 am to discuss misuse of Jamia's name in the protests. Delhi Gripped Under Violent Anti-Citizenship Law Protests, Arvind Kejriwal Appeals For Peace, BJP Blames AAP MLA Amanatullah Khan.
Meanwhile, reports arrived that some miscreants entered the JMI varsity's central library and vandalised its property. On one side, Delhi Police claim that they were JMI students and on the other, JMI states that they were outsiders who want to create an atmosphere of fear among the students.