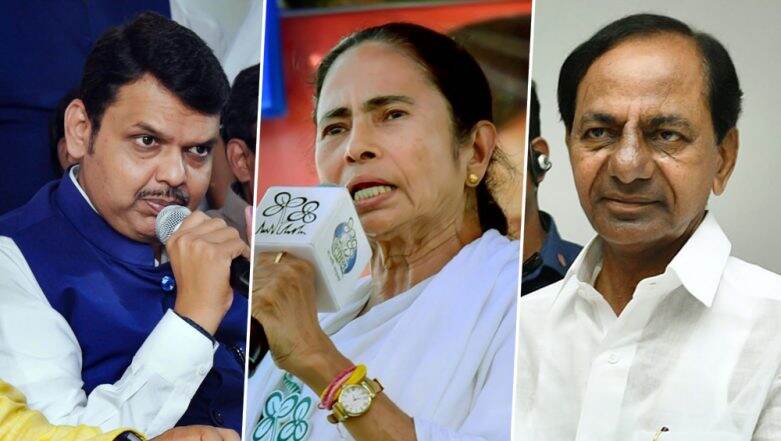 New Delhi, August 26: Union Home Minister Amit Shah on Monday held an inter-state council meeting to review ongoing operations against Naxals and the development initiatives being undertaken in Maoist-hit states. West Bengal Chief Minister Mamata Banerjee and her Telangana counterpart K Chandrasekhar Rao (KCR) didn't attend the key meeting. But what raised eyebrows was the absence of Maharashtra Chief Minister Devendra Fadnavis.
Mamata Banerjee, who has been a vocal critic of the Modi government, sent the DGP and Chief Secretary of West Bengal on her behalf. KCR skipped the meeting because he is reportedly in Hyderabad on a personal trip. Devendra Fadnavis was not present as he is undertaking the 'Mahajanadesh Yatra' in Maharashtra which goes to polls in a few months. Maharashtra's Gadchiroli is one of the hotbeds of insurgency. Five Naxals Surrender Before Police in Chhattisgarh.
Naxals have been active in as many as ten states - Chhattisgarh, Jharkhand, Odisha, West Bengal, Bihar, Maharashtra, Telangana, Andhra Pradesh, Madhya Pradesh and Uttar Pradesh. According to data from the Ministry of Home Affairs (MHA), a total of 8,782 cases of Naxal violence were reported during 2009-13 as against 4,969 during 2014-18, a reduction of 43.4 per cent. Terrorists in Kashmir, Maoists Recruiting Children As Fighters: Antonio Guterres.
As many as 3,326 people, including security force personnel, lost their lives in 2009-13 as against 1,321 in 2014-18, a reduction of 60.4 per cent, the ministry said. Union Minister of State for Home G Kishan Reddy had last month said that the steadfast government policy has resulted in a consistent decline in violence and shrinkage in the geographical spread of Left Wing Extremism (LWE).
This year, 310 incidents of Naxal violence have been reported in the first five months, in which 88 people were killed.