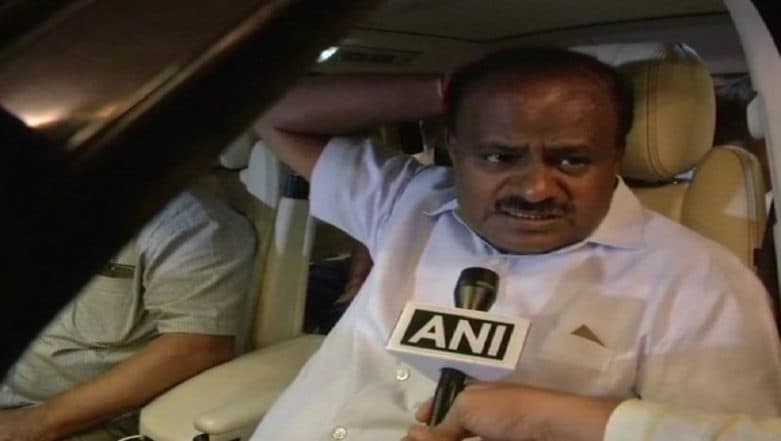 Bangalore, January 16: Karnataka CM HD Kumaraswamy, speaking on the political crisis in the state, has said that the Congress MLAs, who are in a Mumbai hotel, are reachable to him and claimed that he is in touch with all the MLAs, even as the MLAs remain 'unreachable' for the media. The Karnataka CM added that the MLAs will come back soon. Karnataka Congress Faces Rebellion: DK Shivakumar Alleges Horse Trading by BJP, Accuses HD Kumaraswamy of Being Lenient.
On Tuesday, attempts by media persons to sneak in a luxury hotel where some Congress MLAs from Karnataka were staying proved futile, amid talk of BJP's 'Operation Lotus' to topple the coalition government in Karnataka. Karnataka Political Crisis: 2 Independent MLAs Withdraw Support From Congress-JD(S) Coalition Govt, Side With BJP.
Security was beefed up at the five-star resort in suburban Mumbai where two independent MLAs and reportedly four Congress MLAs from Karnataka are staying.  Karnataka: BJP Trying to Topple Congress-JDS Government? Here's The Number Game.
Talking on the reports of crack in the JD(S)-Congress coalition, the Karnataka CM said that "Our coalition is going on smoothly. I was relaxed and I am relaxed. Don't worry, be happy."
Earlier, HD Deve Gowda, former PM and JDS Chief had said that the two MLAs (who withdrew support from Karnataka Govt) are not affiliated with any party as they are independents. Deve Gowda added that "there is no need to hype it (MLAs resignation) up so much. The JDS Chief called the political churning between JDS and Congress a "media created hype."
The political crisis in Karnataka intensified on Tuesday, with two independent MLAs, H Nagesh and R Shankar, announcing the withdrawal of their support to the JD(S)-Congress coalition government in the state. The two legislators have cited the alleged misgovernance in the state for their decision to pull out.