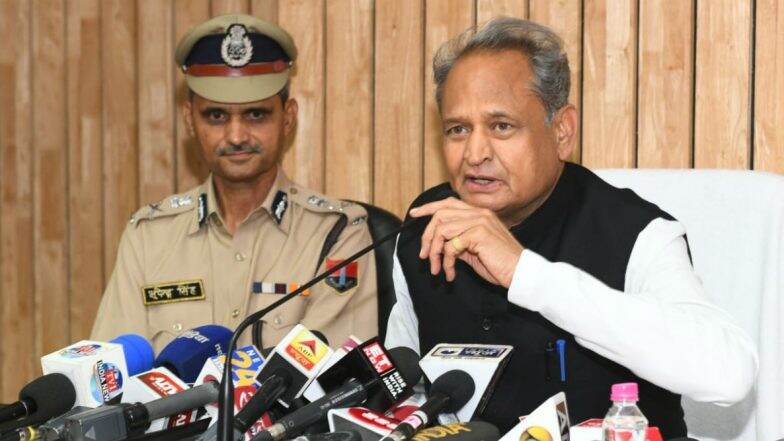 Jaipur, October 7: Rajasthan Chief Minister Ashok Gehlot on Sunday dispelled rumours of a complete ban on liquor in the state. Asserting that he is in favour of a ban on liquor, Ashok Gehlot, however, said that the sale of alcohol is rampant in Gujarat despite prohibition. "I am personally in favour of banning liquor. But a ban on alcohol will give way for illegal liquor. Under these circumstances, it cannot be banned in the state," Gehlot said. Ashok Gehlot Govt Plans 75 Per Cent Job Reservation in Rajasthan.
The Chief Minister added that the sale of liquor was banned in 1977 in Rajasthan. "But it failed and hence removed," said Gehlot. Citing the example of Gujarat, he said that a ban won't work until it is implemented fully and stringently. "I was in Gujarat for a year. There is a ban on liquor since independence. But Gujarat has the maximum consumption of liquor. This is the situation of Mahatma Gandhi's Gujarat," he said. BJP, RSS Taking Mahatma Gandhi's Name is Victory for Congress' Ideology: Ashok Gehlot.
"There is no point of a ban until some stringent arrangements are put in place," Gehlot added. In January this year, he had officials to ensure closure of liquor shops in the state at 8 pm, asking them to impose a penalty if any outlet is found selling alcohol past 8 pm. The closure time for liquor shops was fixed at 8 pm in 2008 during Gehlot's earlier term as the chief minister. He had also asked the officials to check smuggling of illegal liquor from neighbouring states.
"In 2008, our government had initiated a similar policy to check sale of liquor in the state after 8 pm which gave a positive message to the society," Gehlot had said. On the occasion of Gandhi Jayanti this year, the Congress government imposed a ban on certain categories of tobacco.