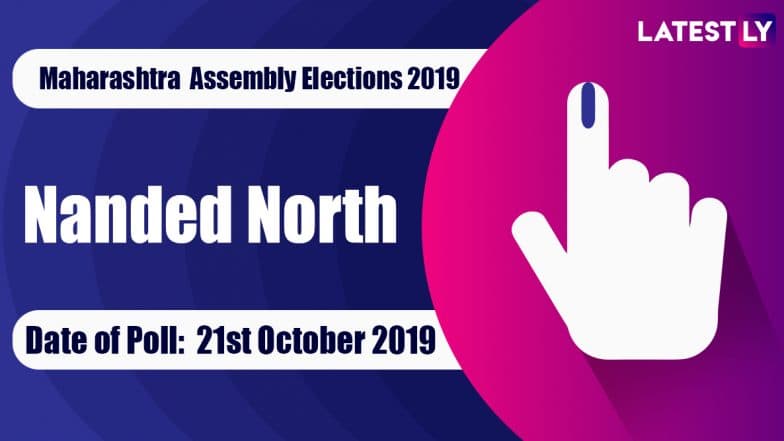 Mumbai, October 10: The Nanded North Vidhan Sabha seat in Maharashtra will see a fierce electoral contest between the Congress and the Shiv Sena. Congress's Dattatrya Pandurang Savant won the Nanded North assembly seat won for two consecutive terms. For the 2019 Maharashtra assembly elections, the Congress reposed faith in Savant who will face a tough fight from Shiv Sena's Balaji Devidasrao Kalyankar. The Congress candidate has the backing of the Nationalist Congress Party (NCP), where the Shiv Sena has the support of the Bharatiya Janata Party (BJP). Ralegaon Vidhan Sabha Constituency in Maharashtra: Sitting MLA, Candidates For Assembly Elections 2019, Results And Winners.
According to the seat-sharing deal finalised between the Congress and the NCP for the Maharashtra assembly elections, the two parties will contest on 125 seats each. The remaining seats have gone to smaller allies. The BJP has 164 of 288 assembly seats in its kitty, while the Shiv Sena nominated candidates on 124 seats. In the 2014 Maharashtra assembly elections, the BJP emerged as the single largest party winning 122 seats. The Shiv Sena, which contested alone, came second with 63 seats. The Congress and NCP bagged 42 and 41 seats respectively. Aaditya Thackeray as Maharashtra CM? Shiv Sena's Dream is Still A Distant One as BJP Plays Big Brother in Alliance During Assembly Elections 2019.
The Election Commission announced the schedule of Maharashtra assembly elections on September 21. As per the schedule, polling will be held on October 21, while the counting of votes will take place on October 24. Nearly 9 crore voters are expected to exercise their franchise.