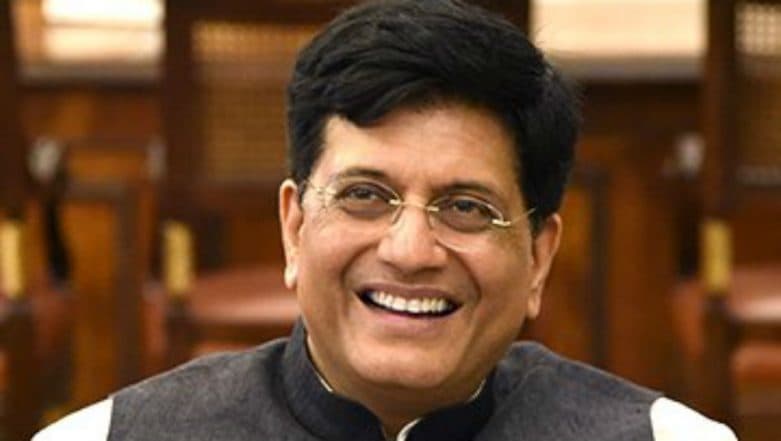 New Delhi, September 13: A day after making a gaffe by stating that "Maths never helped Einstein discover gravity", Union Railways Minister Piyush Goyal admitted on Friday that he had made a mistake. Speaking at an event to flag off new trips of Rajdhani Express from Mumbai's Chhatrapati Shivaji Maharaj Terminus, Goyal said that mistakes are made by everybody and he is not afraid of making one. Auto Sector Crisis: Nirmala Sitharaman Says Government Will Respond to Demands of Automobile Industry.
He also slammed the media for ignoring the message he wanted to convey and highlighting his mistake, reported Hindustan Times. While speaking at the event, Goyal said, "I said Einstein instead of Newton but Einstein has said that a person who never made a mistake never tried anything new." Subramanian Swamy Hits Out at Narendra Modi Govt as GDP Numbers Plunge, Says 'Get Ready to Say Good-Bye to $5-Trillion Economy'.
On Thursday, Goyal issued a clarification about his gaffe by attributing the discovery of gravity to Einstein instead of Issac Newton. He criticised the media for selectively picking up one line and creating a very mischievous narrative. He had said, "The comment that I made had a certain context. Unfortunately, some friends have sought to remove the context, pickup one line and create a very mischievous narrative."
Yesterday, the Union Minister lashed out at experts for questioning the Narendra Modi government's USD 5 trillion economy target in view of low GDP. He had said, "Don't get into the calculations that you see on television. Don't get into this maths. Maths have never helped Einstein discover gravity. If we had only gone by structured formulae and what was past knowledge, I don't think there would have been any innovation in the world."
Reacting to Goyal's gaffe, the Congress also mocked the Railways Minister for his mistake by attributing the discovery of gravity to Einstein. The Congress tweeted, "Former Finance Minister @PiyushGoyal  is correct, Einstein did not require maths to discover gravity, but Sir Isaac Newton did. FYI, maths is also required to #FixTheEconomy." Last month, the government data announced that GDP data slumped to a six-year low of 5 percent.