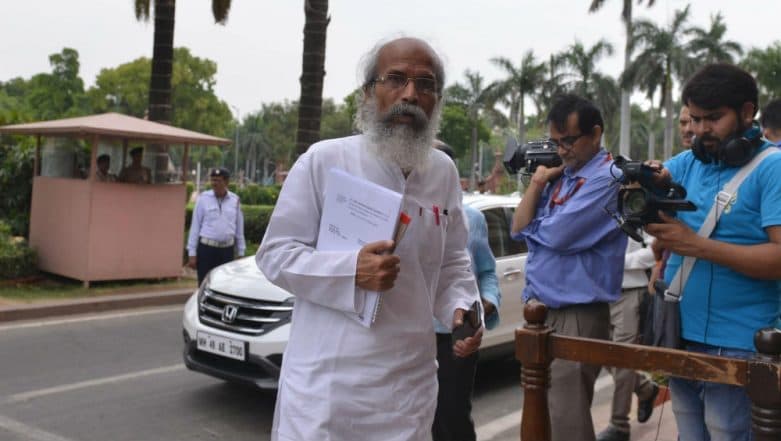 New Delhi, September 13: Calling for "correction", Minister of State and first-time MP Pratap Chandra Sarangi said that India's history had been written in an erroneous manner by invaders. Speaking at an event marking the 126th anniversary of Swami Vivekananda's address at the World Parliament of Religions in Chicago, Pratap Chandra Sarangi said that the current history of India divides Hindus and Sikhs, News18 reported. Known for His Austerity, MoS Pratap Sarangi Steals Show at Swearing-in Ceremony.
"I believe the history of the whole of India has been written in an erroneous manner. This history says the Aryans and the Dravidians came from outside and that they are two different races. This is not true. The British had written a new history of India to make their imperialism perpetual. This history also says Hindus and Sikhs are two different communities, which is incorrect," Sarangi said. The minister also called for rewriting India's history.
"The history of India has been written in an erroneous way by the invaders with the aim of destroying the Indian people's sense of patriotism and their pride in their nation. The sooner this history is removed the better," Sarangi said. The minister's remarks drew a mixed reaction from politicians and academics. Professor Narayan Rao, national vice-president of Akhil Bharatiya Itihas Sankalan Yojana (the history wing of the RSS), backed Sarangi's views.
"The British rulers deliberately presented Indian history in a distorted and erroneous manner after learning that our civilisation is far more ancient than they thought. The aim of such distortion was to break the unity of the Indian subcontinent, and they employed the theory of Aryan invasion and the clash of the Aryans with the Dravidian people," Rao was quoted as saying. The Biju Janata Dal (BJD) and the Congress rebuked Sarangi's statement.
"People speak on history from their differing viewpoints, but history is history. A lot of material about our past is yet to be included in history. Odisha's glorious history and our maritime accomplishments should be in the focus of experts," said BJD leader Debi Prasad Mishra. Congress leader Suresh Routray rejected Sarangi's demand, adding that the minister was making such remarks for political gains.