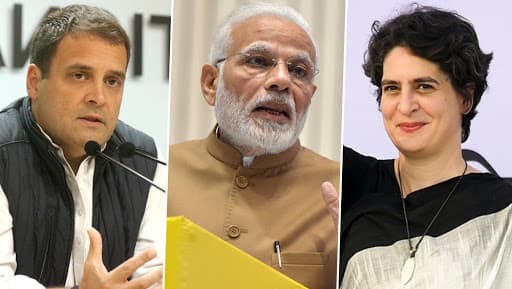 New Delhi, May 17: Amid the political controversy over BJP leader Sadhvi Pragya Singh Thakur calling Nathuram Godse a patriot, Congress president Rahul Gandhi on Friday took a swipe at the ruling party by trying to define BJP and RSS. He called them - 'God-Se Lovers'. Along with this, Congress general secretary Priyanka Gandhi mocked PM Modi and called hin world's greatest actor.
Mocking the ruling party for recent political chaos, Gandhi took to Twitter and wrote, "I finally got it. The BJP and the RSS...Are not God-Ke Lovers. They are God-Se Lovers."  'Narendra Modi Locked Up Entire Cabinet Before Announcing Demonetisation Policy', Alleges Rahul Gandhi. 
Here's the Tweet:
I finally got it. The BJP and the RSS...

Are not God-Ke Lovers.

They are God-Se Lovers.

— Rahul Gandhi (@RahulGandhi) May 17, 2019
Taking a jibe at PM Narendra Modi, Congress general secretary Priyanka Gandhi called him the world's 'greatest actor'. She said, "Ab aap samajh lijiye ke apne duniye ke sabse bade abhineta ko apna Prime Minister bana diya hai, is se accha toh aap Amitabh Bachchan ko hi bana dete, karna toh kisi ne kuch nahi tha aapke liye. (You have elected the world's greatest actor as Prime Minister. It would be better if you had elected Amitabh Bachchan instead. Anyway, no one would do anything for you)." Priyanka Gandhi Hits at Narendra Modi With 'Greatest Actor' Jibe, Says 'Better If You Had Elected Amitabh Bachchan as PM'. 
Earlier, trying to cool the political controversy on that erupted after Thaker's Godse comment, PM Modi reprimanded the Hindutva activist-turned-politician. He said, "(I) will never forgive her for insulting Bapu."
The PM's stern response came hours after two BJP MPs - Nalin Kumar Kateel and Anantkumar Hegde - furthered the controversy stoked by Pragya Thakur by attempting to defend Godse." PM Modi Reprimands Sadhvi Pragya Thakur For Pro-Godse Remark, Says 'Will Never Forgive Her For Insulting Mahatma Gandhi'.
Earlier, Thakur had said, "Nathuram Godse was a deshbhakt, is a deshbhakt and will remain a deshbhakt. People calling him a terrorist should instead look within. Such people will be given a befitting reply in these elections."
Following this Amit Shah expressed his disapproval, saying that the three leaders have been granted 10 days to explain their remarks. The party's disciplinary committee will take appropriate action against them, he said.