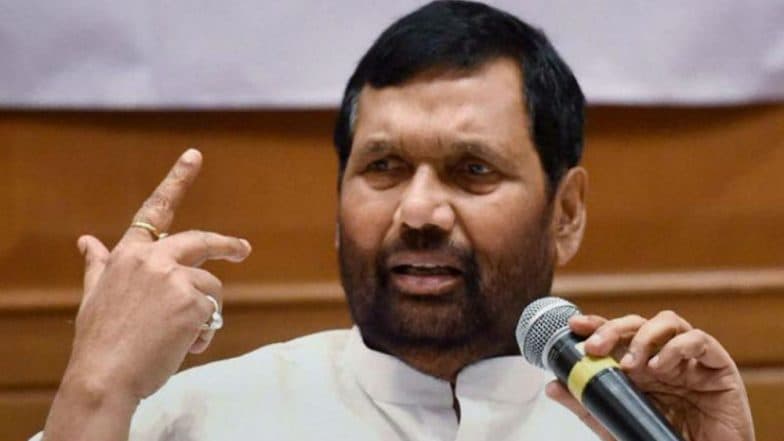 New Delhi, October 7: Union Minister Ram Vilas Paswan was admitted to Delhi's Escorts hospital on Monday. The minister for food, public distribution and consumer affairs was taken to the hospital after he complained of breathing problem. According to reports, a team of doctors are monitoring his condition. More details are still awaited.  Ram Vilas Paswan: Master Political Craftsman Who Has Worked Under 6 PMs.
In July this year, Paswan's brother Ram Chandra Paswan died at RML Hospital in Delhi. He was admitted to the hospital on July 12 after he suffered a major heart attack. He was in the Intense Care Unit (ICU) under the observation of Dr Randeep Nath, HOD- cardiology at RML. In the 2019 Lok Sabha election, Ram Chandra Paswan was elected from Samastipur constituency in Bihar.
Paswan is currently a Rajya Sabha MP from Bihar. Last week, when the Union Minister visited his constituency Hajipur in Bihar to assess the flood situation, he was mobbed by locals. The crowd surrounded the Lok Janshakti Party (LJP) chief As soon as he got down from his vehicle, and asked where he was for the last five days. Ram Vilas Paswan, Union Minister And LJP Chief, Elected Unopposed To Rajya Sabha.
The eight-time Lok Sabha member has never sat in the opposition since 1989. He won his first Lok Sabha election in 1977 on the ticket of Janata Party from Hajipur constituency. He also won parliamentary polls in 1980, 1989, 1996 and 1998, 1999, 2004, and 2014. In 2019 he decided not to contest elections for the Lower House. Subsequently, he was nominated to the Rajya Sabha from Bihar by the Bharatiya Janata Party.