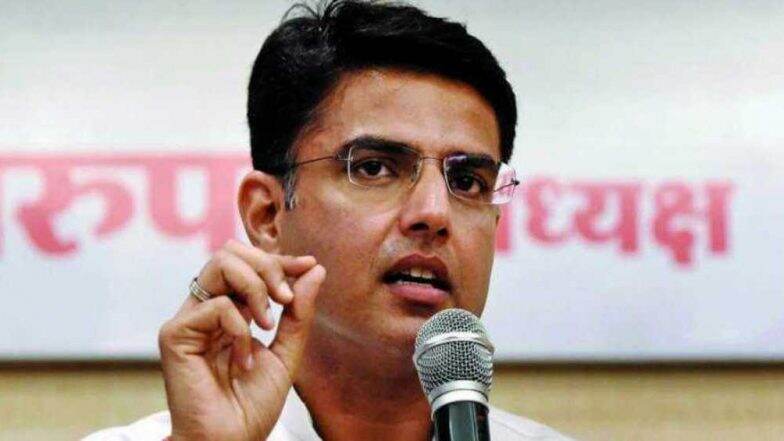 New Delhi, December 11: Sachin Pilot appealed for peace and discipline after his supporters blocked roads and created a ruckus in Rajasthan's Karauli on Thursday in protest as the state still awaited a formal announcement on their new Chief Minister. Pilot, who is in the CM race along with veteran Ashok Gehlot, said that the decision taken by Congress president Rahul Gandhi and UPA chairperson Sonia Gandhi would be welcomed by all.
"I urge all congress cadres to maintain peace and discipline in the state. I have a full confidence on the top leadership of the party, Hon. Rahul Gandhi and Mrs Sonia Gandhi who will decide the next CM and their decision will be welcomed by all. All of us are dedicated to the Congress, the Party's dignity is the responsibility of all of us," Pilot said on Twitter. Who Will be Chief Ministers of Rajasthan, Madhya Pradesh, Chhattisgarh? Reports Say Names of Ashok Gehlot, Kamal Nath, Bhupesh Baghel Finalised; Suspense to End Soon.
सभी कार्यकर्ताओं से शांति एवं अनुशासन बनाए रखने का आग्रह करता हूँ। मुझे पार्टी के शीर्ष नेतृत्व पर पूरा विश्वास है, माननीय राहुल गाँधी जी एवं श्रीमती सोनिया गाँधी जी जो फ़ैसला लेंगे उसका हम स्वागत करेंगे।हम सभी कांग्रेस के समर्पित,पार्टी की गरिमा बनाये रखना हम सभी की ज़िम्मेदारी

— Sachin Pilot (@SachinPilot) December 13, 2018
According to sources, the decision on the next CM will be announced shortly. Both Sachin Pilot and Ashok Gehlot -- the top contenders for the post of CM in Rajasthan -- met Rahul Gandhi at his residence. On December 11, Congress won 99 seats of 199 in the Rajasthan Assembly -- one-seat short of the halfway majority mark. The ruling party Bharatiya Janata Party (BJP) bagged 73 seats while Bahujan Samaj party won six.