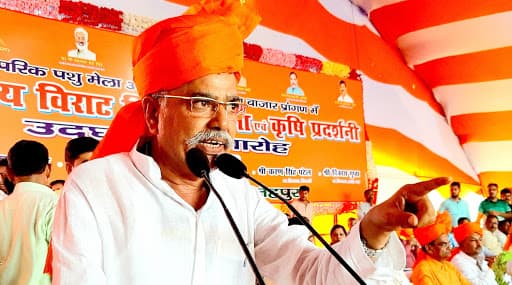 Lucknow, December 5: With the shocking report of a rape survivor being set ablaze in Uttar Pradesh's Unnao allegedly by the man accused of raping her coming to light, a state minister of ruling Bharatiya Janata Party -- Raghvendra Pratap Singh -- made a shameful comment that 'even Lord Ram cannot guarantee 100 per cent crime-free society'. The BJP MLA from Domariyaganj constituency in Uttar Pradesh and was commenting on women safety in Uttar Pradesh.
Expressing his views on the condition of women safety in the country, Singh said, as quoted by Times Now, "Jab Samaj hai, to yeh keh dena ki 100% crime nahi hoga.. ye surety to mujhe nahi lagta ki bhagwan Ram bhi de payenge (When there's a society, there is no surety of 100 percent women security. No one can guarantee 100 per cent crime-free society. Even Lord Ram cannot guarantee it)." Unnao Rape Case: 23-Year-Old Survivor Set on Fire by Accused Out on Bail, Condition Critical.
Here's the Times Now tweet:
#Breaking | SHOCKER from UP mantri.

'Even Lord Ram can't guarantee 100% security of women in India,' says UP Minister.

Listen in. | #HangRapistsIn180Days pic.twitter.com/POFLCheW4Z

— TIMES NOW (@TimesNow) December 5, 2019
However, he later clarified that all the criminals should be brought under justice and should be punished. He said, "To 100% nahi hai, lekin ye surety zaroor hai ki agar crime hua hai to wo jail zaroor jayega aur usko saza kadi se kadi milegi. Ye tay hai."
The controversial comment did arrive after a week of the horrifying rape case of Hyderabad veterinarian and setting her ablaze by the accused. Also, report of a rape survivor being set ablaze in Uttar Pradesh's Unnao by accused of raping her, along with four others, is too a concerning factor which questions the status of women security in the country.
According to police, the Unnao incident took place on Thursday morning when the accused, out on bail, attempted to burn the rape survivor by dousing her with kerosene more than a kilometre away from her home on a deserted road. During that time, she was on her way to Raebareli for the hearing in the rape case and was alone. The administration is bringing the victim to Delhi Safdarjung Hospital via air ambulance.