One might assume that to wear a bikini or lingerie for a photo shoot or on runway, one needs a killer body that is deemed to be an ideal one. But more than that people need to be confident enough to rock a bikini no matter what the body shape. Off late many celebs, especially in the west or Hollywood, have seen either posing on magazine covers almost naked or in a sexy lingerie or posting on their social media accounts. From Ashley Graham, Chanel West Coast to Gigi Hadid and Kim Kardashian, we bring to you some of the sexy pictures of Hollywood celebs in a lingerie. Kim Kardashian Strips Naked for Erotica Magazine: See Pics of the Sultry American Reality TV Star From Her Sexiest Photo Shoot Ever!
Recently, American rapper and model Chanel West Coast shared a series of sexy photos in a lingerie on her Instagram. And she is seen surrounded by roses while she poses lying on a bed in a black lacy lingerie. But she is not the only one who stripped down for a photo shoot or the runway. Rihanna's Savage X Fenty NYFW Show Celebrated Women, While Her Model Went into Labour Straight from Ramp.
Chanel West Coast in a Black Lingerie
View this post on Instagram
Ashley Graham also has plenty of gorgeous photos of her slaying in a bikini. As reported by Hollywood Life, she also recently opened about how she's glad that the #MeToo movement has helped changed the industry to be more aware of model's safety and emotions during nude photo shoots.
Ashley Graham Posing in a Sexy Bikini
View this post on Instagram
Now when it comes to Kardashians, they are undoubtedly one of the most talked about celebs in the industry especially when it comes to fashion. From Kim K to Kendall Jenner, each of them have rocked bold and sexy looks in a bikini. Recently, Kim K revealed her sexiest and boldest pictures when she stripped down naked for an erotica magazine.
Kim K Flaunting Her Envious Curves
View this post on Instagram
Contrary to what has Kim always portrayed on camera or in media, she is not confident when she's not wearing clothes. In an interview with Richarson, Kim says, "It's actually funny, at home I'm much more conservative than my public persona is. My public persona is wild, sexual. But I'm uncomfortable when I talk about sex, and I'm more conservative when it comes to that."
Just like Kim, another celeb who is not comfortable about being naked is supermodel Gigi Hadid. During an interview, Gigi said, "Some people are empowered and excited to be naked and that is amazing. And I wish I was one of those people and I am not one of those people. And I've accepted that about myself and that is okay." But despite that, Gigi recently walked during New York Fashion Week wearing Rihanna's Fenty x Savage lingerie on the runway.
Gigi Hadid Killing it in the Bikini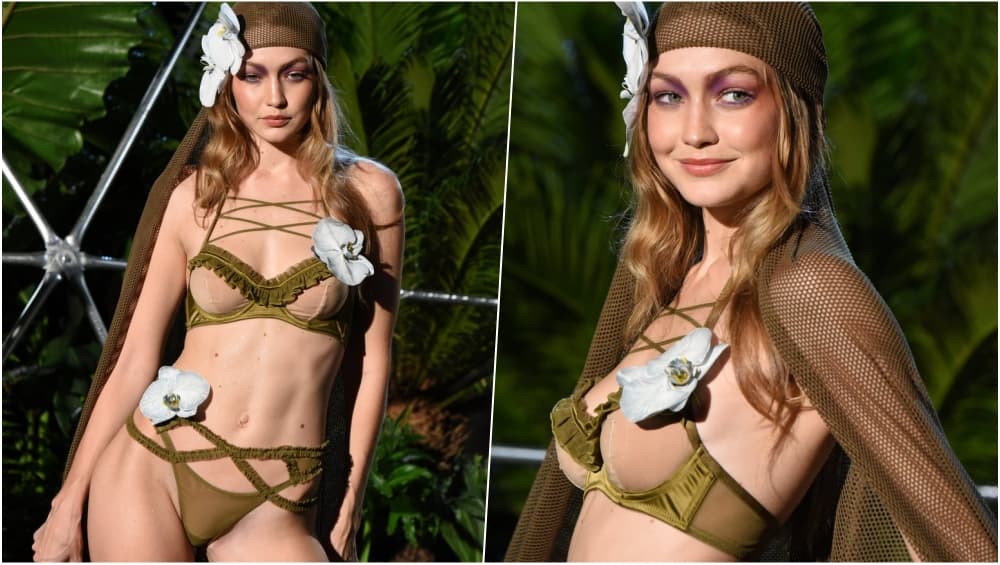 What we must also remember that just because women wear lingerie or are comfortable posing naked for their work, they should be objectified. While all these women may feel differently about wearing lingerie or posing naked, they look stunning and the pictures do come out great. Don't you think? Let us know in comments whose sexy lingerie picture did you love the most.