Jeffree Star said he's done with drama and doesn't want to be involved in drama anymore. His recent comments on trendmood's Instagram page prove that was a lie! Jeffree Star shades Kylie Jenner's new skincare launch by laughing at her products. Sure, Kylie Jenner's brand isn't everyone's cup of tea, but the beauty tycoon made it loud and clear by posting his opinion on trendmood's Instagram page, on Kylie's new skincare launch post. The Kylie and Jeffree feud dates back to 2016 with damaged wands through overpriced brushes. And now, skincare products. Kylie Jenner Flaunts Her Voluptuous Curves In A Black Bikini And We're Going Hubba Hubba Over It! View Pics.
Kylie Jenner comes out with new products every other day. You blink and she's launched something new. Her newest launch was her skincare line, Kylie Skin. after the first launch, Kylie has added more products to her kitty by introducing a summer skincare line. Her line includes a coconut body scrub, coconut moisturiser and an SPF oil that includes coconut oil. While people had mixed reactions to this, the one person who felt very strongly about this launch was Jeffree Star. Jeffree has been vocal about disliking Kylie's products before. The first time Jeffree expressed his dislike was when Kylie Jenner launched Kylie Cosmetics and Jeffree received his lip glosses with damaged wands. He bashed the product without trying it and threw all his lip glosses away the lip glosses in a trash can on camera. Sex Positions for Endometriosis Pain: 5 Positions to Reduce Discomfort in Women.
On June 2, Jeffree Star came together with Shane Dawson to review the entire skincare launch by Kylie. In the video, Jeffree calls Kylie's products "basic" and says she's only selling her name. The products were not Jeffree Star approved and Shane Dawson didn't have anything positive to say about the products either.
Jeffree Star and Shane Dawson's Kylie Skin Review
Now that Kylie has come out with more skincare products, Jeffree Star commented on trendmood's post of Kylie Skin and shaded her. Jeffree made a simple comment with just "Hahahahahha".
Trendmood's Post on Kylie Skin
View this post on Instagram
Jeffree's Comment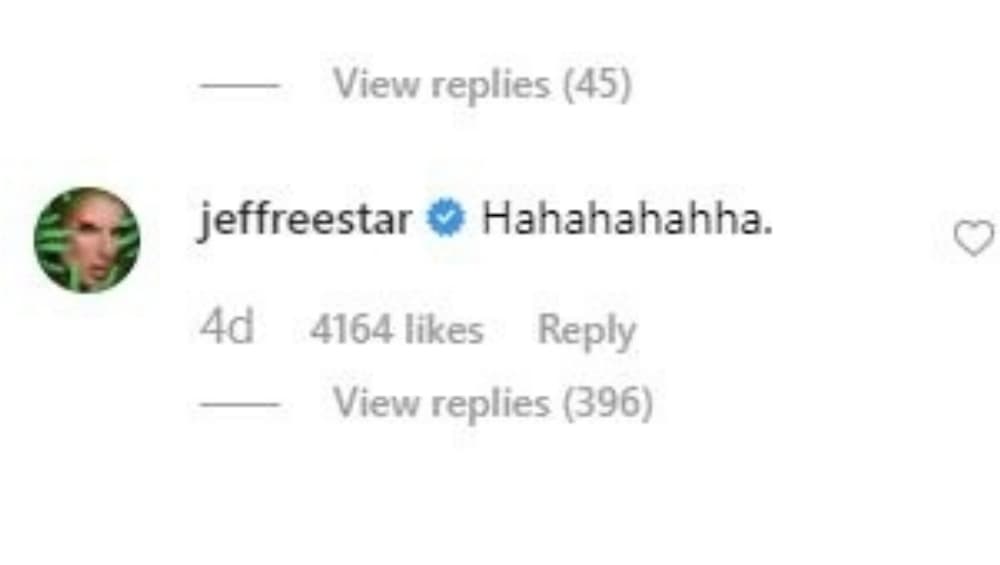 People were quick to call Jeffree out for spreading negativity even though maximum comments were giving the new collection a  pass. Jeffree replied to the people bashing him for his comment by saying he's allowed to give his opinion on the products just like every other person on the page. Jeffree Star may say he's trying to stay out of drama but that doesn't seem to happen any time soon.