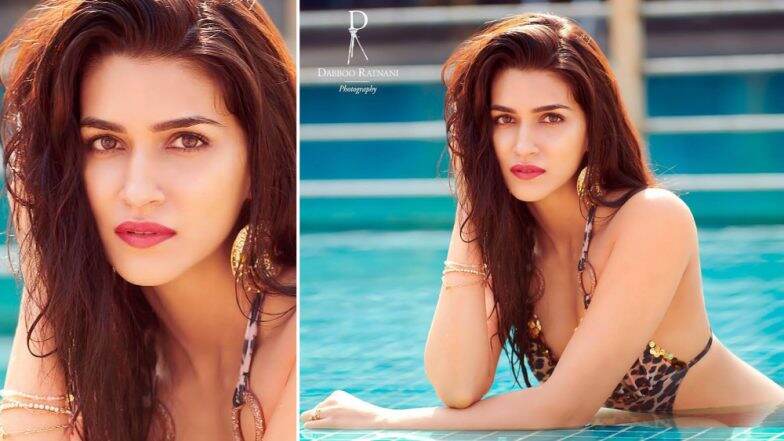 If pheeka is too harsh an adjective used in the headline to describe this picture of Kriti Sanon from Dabboo Ratnani's calendar 2019, then allow us to be more polite in the copy. We can settle for mere 'Plain'. That is it! We are no expert in photography and neither are we sure if this is Kriti's best profile angle possible, but all we can say about this visual is that this surely ain't the best one that has captured the beauty in her finest avatar. This one has left us asking for something more!
In fact, this one has disappointed us on many levels. There's no denying the fact that Dabboo Ratnani is one of the most celebrated photographers and Kriti's beauty is equally well chronicled. The two could have given us something really striking. This is elegant. This is pretty.  And at best, this is pretty plain. it is both simple and simplistic. But it lacks, truth be stated,  that intangible element called X-factor. Kriti Sanon at Umang 2019 Event: Luka Chuppi Actress' Sunaina Khera Lehenga-Choli With an Overcoat Is Perfect for a Chilly Evening (See Pics)
Ratnani has obviously gone a step ahead of Kriti's much discussed hotness quotient. We admire the overall composition employed here with the unmissable elements such as Kriti's honey eyes, her gorgeous face and the way azure blue waters reflect beautifully on her porcelain skin tone. And yet the frame has no sparkle in it, whatsoever! Dabboo Ratnani 2019 New Year Calendar: Tiger Shroff, Janhvi Kapoor, Farhan Akhtar, Kriti Sanon Have Fun Shooting for the 20th Edition (Watch BTS Videos)
Ratnani has given us a delectable starry delight yet again this year. From Kiara Advani to Vidya Balan--there are many frames in the calendar that held our interest almost immediately. Sadly, this one fails to fall into that 'must watch' category.  We hope Kriti will give us more 'stimulating' optical delight in the days to come. We, much like her ardent fans, are keeping our fingers crossed!