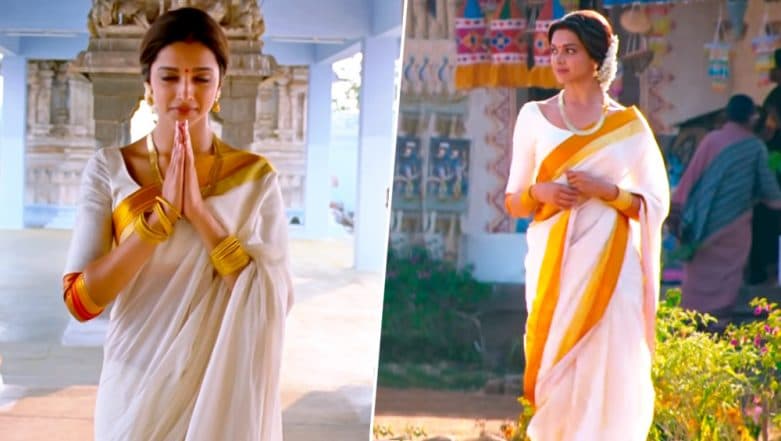 Traditional Kerala-style kasavu saree not only looks elegant but also is quite easy to wear. Women in Kerala have been known to wear the traditional white saree with a golden border that looks amazingly breathtaking. While there are different styles to wear Kerala saree, some of them are quite popular. A two-piece garment named 'Settu Mundu', also known as Mundum Neriyathum is worn is a different style without a pallu, and the other more contemporary style is worn with a pallu. For wearing the saree the way Malayalis do, you'll need a Kerala sari which is also known as a set sari. There are many varieties of set saree that you will find with borders of different styles and prints; however, the most popular set saree traditionally comes in off-white colour contrasted with a golden-colour border. You can opt for a readymade blouse in different shades. People choose green, black and red coloured blouse usually to complement the saree. With Vishu just around the corner, here's how you can drape the Kerala style saree at home. Gudi Padwa 2019: How to Wear Nauvari Saree; 2 Ways to Drape the Traditional 9-Yard Maharashtrian Kasta.
How to Wear Kerala-Style Saree
1. Just like you wear your normal saree, you must insert one end of the garment into the petticoat whole, taking the rest of the cloth from your right side and bringing it to the front.
2. Now make a couple of pleats with the part you brought to the front; however, make sure that the vertical border is visible on the front side.
3. Insert the pleats carefully at the waist and pin them to secure it in the front.
4. Now take the Neriyathum or the upper part of the saree and insert one end of the cloth slightly to your left at the waist.
5. Whole bringing your cloth to the right side while draping around your hips place it diagonally onto the left shoulder while covering the front torso
6. Let the loose end(your pallu) fall over your left shoulder, you can pleat your pallu beforehand and pin it to keep them in place tightly secured.
Step-by-step instructions to wear Kerala-style saree Video
Vishu is just around the corner, and even if you are not a Malayali, you might want to try the Kerala drape. Anyone can carry this sophisticated and gorgeous-looking saree. What's more? It's ridiculously easy to drape.