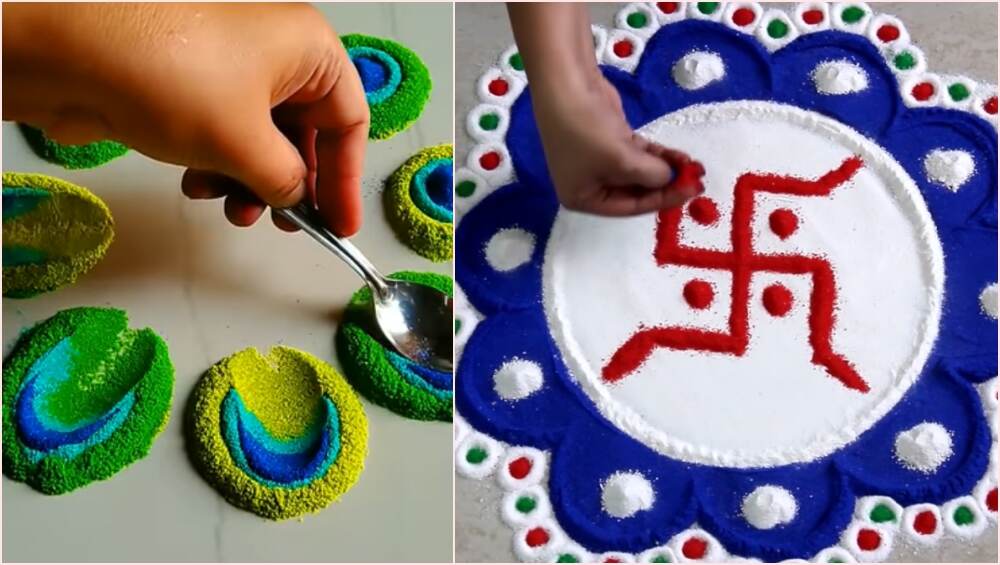 One of the most joyous festivals, Diwali is significantly celebrated across the country. No corner is spared from the bright lights, earthen lamps and colourful rangolis. Yes, the beautiful patterns made with colours and flowers beautifully grace the floors of temples and households. India is celebrating the Hindu festival of lights, Badi Diwali 2019 today, October 27. Devotees will worship Goddess Lakshmi the goddess of wealth, while Bengalis will pray to the fearless Goddess Kali. And Diwali evenings are also for Taash parties. Amidst all the celebration, you need to make sure that your Rangolis are apt for the festivity. If you are stressing out on the last-minute touch-ups to your decorations, well, ease that sweat. In this article, we present you straightforward and extremely quick Diwali 2019 rangoli designs that you can make with the spoon. These are the latest and quick rangoli patterns and pookalam designs, absolutely suited for the festival of Deepavali. In addition to the tips, we also have provided DIY videos.
Rangoli for Diwali Using Spoon:
You thought it's tough! Well, this video might want you to rethink. The rangoli pattern is absolutely easy. All you need to do is outline first, using a spoon and a round empty vessel. And fill in colours and compliment the pattern adding a few more designs at the edges to give it an elegant touch. Simple Rangoli Patterns With Colours and New Pookalam Designs With Marigold Flowers for Deepavali. 
Mor Pankh Rangoli Design: 
The peacock feathers (mor pankh) rangoli designs are the most popular designs, appropriate for all festivals. And it is not very simple and quick to make. But when you have the right approach, it should not take you more than fifteen minutes for the outcome. Watch this video and see, how with the help of a spoon, the rangoli design came out so perfectly for the festival of lights. Simple Rangoli Designs for Diwali 2019 With Marigold Flowers: Latest Rangoli Patterns and Pookalam Ideas to Celebrate Deepavali. 
Rangoli Designs Using Basic Items: 
This design is appropriate for the doorway entrance. Just with small bowls, this pattern is perfect for Deepavali celebration. Honestly, the video is for those who are quite an expert now, but are running out of ideas. Make this rangoli at the entrance of your house to welcome your guests for Lakshmi pujan. Happy Diwali 2019 HD Images and Greeting Cards Online: WhatsApp Stickers, Deepawali GIF Videos, Hike Messages, Lakshmi-Ganesh Photos, Facebook Wishes, SMS & Quotes to Celebrate the Festival. 
Rangoli Design for Diwali: 
Did you know that even combs could give you beautiful rangoli pattern? Watch this video to believe us. It might look a lot tricky, but trust us, it is one of those easy designs that will give you a satisfying outcome. Follow the step-by-step guide as shown by the expert, your Diwali 2019 rangoli will shine bright. Bonus? The video contains more than one rangoli design!
Preparations for festivals is more enjoyable than just being the attendee. Now you have so many rangoli designs and patterns for the celebration of lights. So, grab your favourite colours and charm the festival of lights with these traditional patterns and rangoli designs. Happy Diwali.