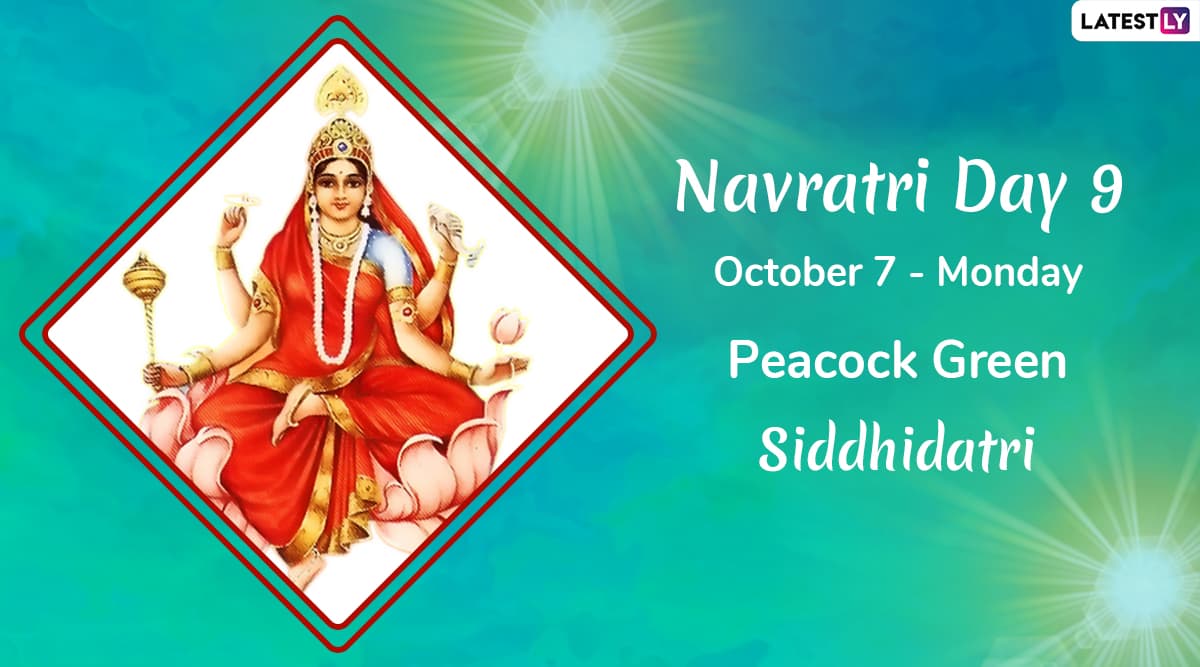 The festival of Sharad Navaratri is being marked from September 29 in the country. All nine manifestations of Goddess Durga Maa are respected during this nine-day festival. The last day or the ninth day of Navratri will be dedicated to Goddess Siddhidhatri. This form of Navadurga is said to fulfil the divine aspirations and completes the mundane. One of the prominent ways of marking all the nine days of the festival is the colour chart that is followed throughout. Each day women wear specific coloured clothes, the same in which idol of Goddess Durga is also draped. The colour for day nine of Navratri is peacock green. Navratri 2019 Day 9 Peacock Green Colour Recipe: Here's How to Make Paan Petha Sweet at Home (Watch DIY Tutorial).
Goddess Siddhidhatri gets her name from Siddhi which means supernatural power or meditative ability, and Dhatri which means giver or awarder. So there is a belief that she blesses all her devotees with her power. It is also said that one part of the idol of Lord Shiva is of this goddess. Lord Shiva is said to have attained all siddhis by worshipping her. This Goddess is seated on a Lotus and her vehicle is a lion. Navdurga Bhog List for Navratri 2019: From Ghee to Malpua, Here's List of Special Prasad That You Can Offer to Nine Forms of Goddess Durga.
Siddhidhatri Puja Vidhi, Mantra and Prarthana
Mantra - ॐ देवी सिद्धिदात्र्यै नमः॥ Om Devi Siddhidatryai Namah॥
Prarthana - Siddha Gandharva Yakshadyairasurairamarairapi।Sevyamana Sada Bhuyat Siddhida Siddhidayini॥
This form of Maa Durga is said to possess eight supernatural powers or the siddhis called  Anima, Mahima, Garima, Laghima, Prapti, Prakambya, Ishitva and Vashitva. She blessed Lord Shiva by giving all of these eight powers. Hence she is also said to be a goddess of all achievements and perfections. On the last day of worship of Navratri, seek blessings from Goddess Siddhidhatri. May she take away all your worries and bless you with all thay you seek. We wish you have a very happy Navratri 2019!