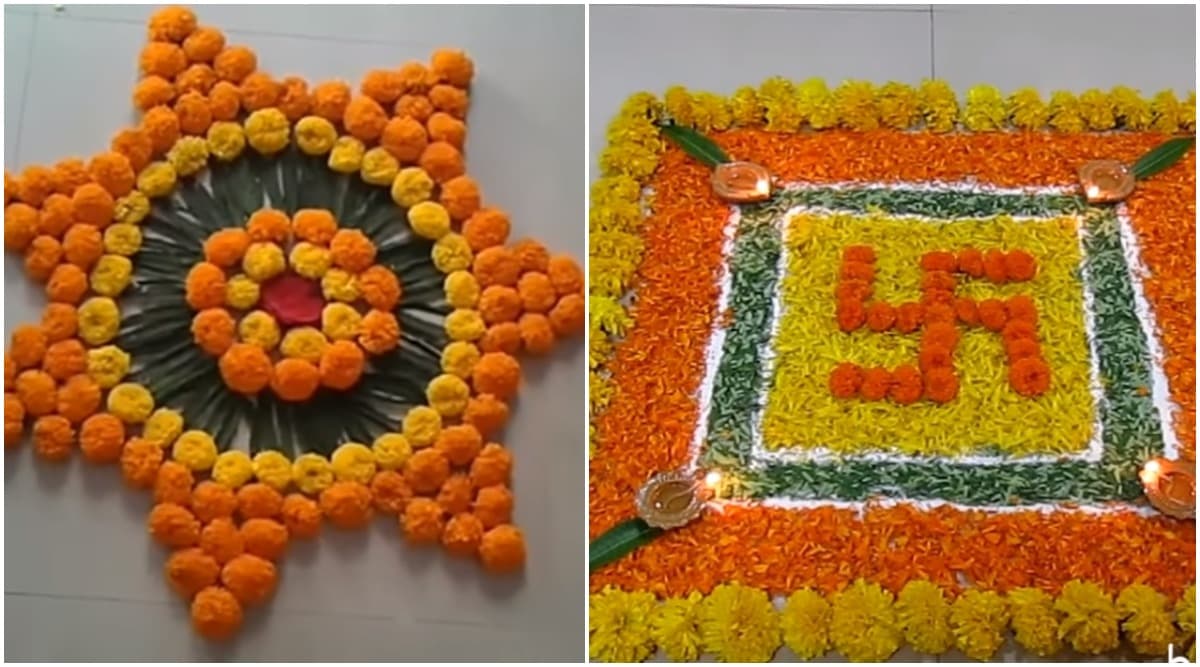 Rangoli is an integral part of Diwali celebrations in India. The splash of colours at your doorstep signifies the arrival of the celebratory occasion. While powdered colours are generally used to mark the occasion, people also used flowers and leaves to make rangoli. Orange and yellow marigolds are arranged in beautiful patterns and design to look like Rangoli design. People also use mango leaves to beautify the design. The flower arrangement is called Pookalam in the South in which an array of flowers from roses, lilies, jasmines, lotus are used. Pookalam designs are generally made outside homes during festivals in the southern region. As Diwali celebrations have engulfed everywhere, we have compiled a list of tutorials showing simple and quick ways to make marigold rangoli at your home this festive season. Easy Rangoli Designs for Colorful Diwali 2019: Quick and Simple Rangoli Patterns With Colours and New Pookalam Designs With Marigold Flowers for Deepawali (Watch DIY Videos)
Many-a-times first-timers are often daunted by the idea of Rangoli design. It may seem like a tedious task, but we promise you these videos will help you make Pookalam Rangoli designs in the easiest way. Marigold flowers are a beauty in themselves and using them to make Rangoli design will ensure you have a great one to boast about. You can use it by either separating the petals and arranging it accordingly or use it as a whole flower. Diwali 2019 Decoration Ideas: Brighten Up Your House With Diyas, Lanterns, Fairy Lights and Candles This Deepavali.
Pookalam Rangoli Design With Marigold Flowers:
Looking at this grand Rangoli design you may feel it is a difficult one, but trust us it is the simplest. You can first draw the design you want on the floor and put keep flowers on it. Keeping a small burning oil lamp in the middle will accentuate its look. This Diwali try this rangoli with flowers and earn praises for your work. Easy Diwali 2019 Rangoli Designs to Make With Spoon: Latest Rangoli Patterns & Pookalam Designs for Deepavali That Are Quick to Make (Watch DIY Videos)
Simple Rangoli Design With Flowers And Colours:
This Rangoli design is a mix of coloured powder and flowers. It is quite simple to make and done quickly. All you need are two types of flowers, some leaves, Rangoli powder and a diya. This Rangoli design is an example of a simple yet elegant pattern which doesn't require a lot of time. Latest Dot Rangoli Designs For Diwali 2019: New and Easy Rangoli Patterns With Dots and Colours to Decorate Your House This Deepavali (Watch Videos)
Swastik Rangoli Design With Flowers:
This Rangoli design of a Swastik can be made easily using flowers and leaves. Yellow and orange Marigolds are arranged in a square shape to compliment the shape of the Swastik. You can add more patterns or prefer to keep it simple.
Simple And Quick Pookalam Made of Marigold Flowers:
This is a quick Rangoli design which can be made easily at home. You need a handful of flowers and leaves to make this pattern. Adorning it with lighted lamps on the sides will add to the look. Latest Diwali Rangoli Designs 2019: Quick And Easy Colourful Rangoli Patterns to Brighten Up Your Home This Festive Season (Watch Videos)
Just like Diwali witnesses large scale festivities, the preparations also take long. Making Rangoli is an age-old tradition which signifies prosperity and good luck. It is made in varying patterns and designs in different parts of the country. The festival of Diwali celebrates the victory of good over evil; while the celebrations vary in different regions of the country, the core essence of the festival remains the same. We wish everyone celebrating a Happy Diwali!