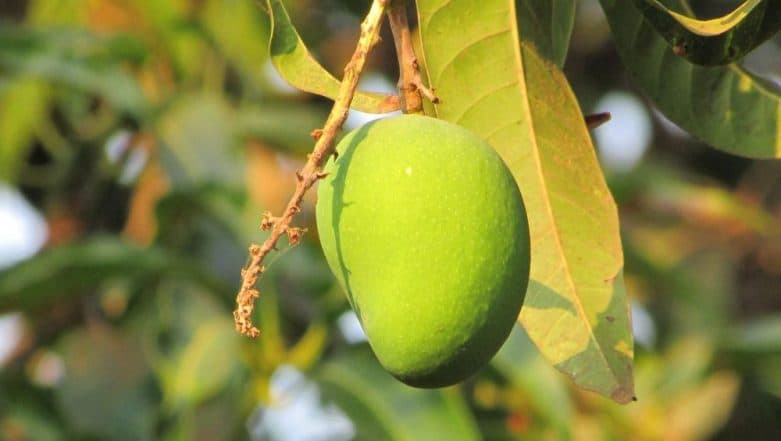 The best part about summer is inarguably the mangoes. Desheri, Kesari or Alphonso, who doesn't love to sink their teeth in the succulent yellow fruit? But fitness experts have always warned us about mangoes, not because they are unhealthy but because they are high in sugar. So for many diabetics, mangoes are a no-no because they can spike blood sugar levels. While the fruit may be bad for diabetes, mango leaves and seeds have the opposite effect on blood glucose levels. They contain powerful antioxidant compounds that have an anti-diabetic effect, and it's validated by science. Here's what you should know about using mango leaves and seeds as a home remedy for diabetes. How to Cut a Mango Correctly? 3 Quick and Interesting Ways to Eat the King of Fruits This Summer. 
Mango or Mangifera indica L., has pharmacological properties due to its rich nutrient profile. It has various polyphenolic acids, which includes mangiferin found in all parts of the mango, including its leaves and seeds. This compound has antioxidant, radioprotective, antiallergic, anticancer, antimicrobial, immunomodulatory and anti-inflammatory properties. Studies have found that mangiferin is also a powerful anti-diabetic ingredient, which can reduce blood sugar.
Insulin is an important hormone that our body needs to regular blood sugar. By stimulating the β-cells, mangiferin helps in the release of insulin, which allows the body to use up the sugar in the blood. Amazing Health Benefits of the Mango Kernal or 'Gutli.'
How to Use Mango Leaves and Seeds for Diabetes
Mango leaves have to be plucked and cleaned first. Boil it with some water till a tea-like concoction is created. Alternatively, you can also soak the leaves in water overnight and drink the liquid in the morning.
How to Make Mango Leaf Tea (Watch Video):
Mango-leaf tea can be substituted for regular tea for a few days till your blood sugar comes back to normal levels. Avoid adding sweeteners such as sugar or honey because that will ruin the purpose.
How to Split Open Mango Seed (Watch Video):
Consuming the seeds may be a little more difficult because they have an inedible tough casing. To remove it, place a sharp knife tip at the side seams of the casing and push through. The seed will get split into two. Inside, there is a soft kernel, which is edible. You can also beat the tough seed covering open with a pestle. The kernel can either be eaten directly or after drying and powdering. It can also be pickled or added to subjis.