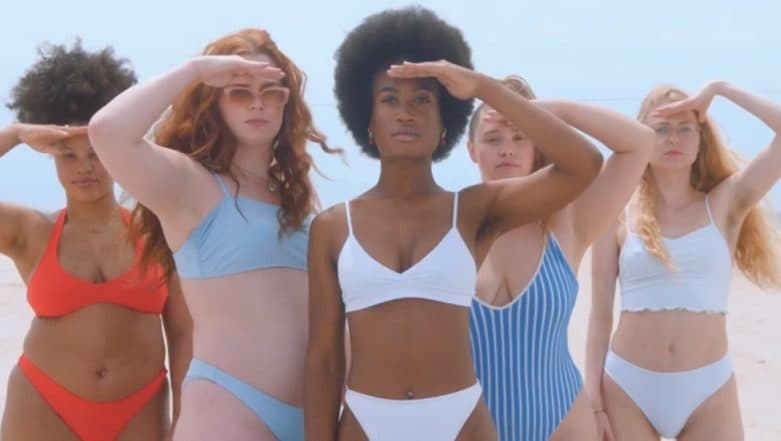 Women shaving their already waxed hands is how companies selling hair-removing products show women's body in advertising. Thin, fair women with straight hair are the ideals promoted by the media. While there is a positive change in the wind with brands becoming more inclusive in their approach, the many continue to promote unrealistic body expectations. And now, in a massive breakthrough, razor brand Billie dared to defy these norms by showing women with pubic hair in their latest ad! Nike Launches First Ever Plus-Size Mannequins to Promote Inclusivity and Body Positivity! Internet Is Divided.
Titled 'Red, White, and You Do You', the video tries to encourage women to be comfortable in their bodies. It shows a group of women by the sea in their bikinis being comfortable in their unshaven bikini line and hairy armpits. This is the first time real female pubic hair has been shown in advertising. Plus Size Baby Store Panties Worn by Zero Size Models! Twitter Is Furious Over the Offensive Ad by Lingerie Company.
Here is the ad:
Billie's ad comes after their groundbreaking campaign last year called 'Project Body Hair' which was the first-ever razor ad to show female body hair. Billie co-founder Georgina Gooley told TODAY Style, "To celebrate our one-year anniversary of Project Body Hair and the beginning of summer, we wanted to challenge the notion of being 'summer ready.' A lot of women feel the pressure to remove their body hair when they're wearing a bathing suit so we felt like it was the perfect time to get out there and say 'no matter what you choose, you're already summer ready.'"
As the video went viral, women took to social media appreciating the brand's move. Check out Twitter reactions below:
Tweet #1
billie is the first women's razor brand to show hair in their commercial and I think that's perfect pic.twitter.com/9bCyCh904j

— cam | purplebeck (@kimfuIs) July 5, 2018
Tweet #2
Girls: if you don't subscribe to Billie (razor club) you are missing out and spending way more than you have to on your razors. I'm obsesseddddd.

— N i c o l e (@NicoleAlto) June 20, 2019
For this body positivity ad, the brand partnered with Ashley Armitage, who had directed the original Project Body Hair.
Tweet #3
Forget summer ready or beach ready

An American women's razor brand has been praised on social media for showing pubic hair in its latest campaign.

Billie unveiled a new video as part of its Red, White, And You Do You campaign,... https://t.co/flnPUNXrs1

— Dr. CM Wong (@koshime) June 26, 2019
Gooley further said, "Historically, women's razor brands have portrayed body hair as 'socially problematic.' In an attempt to sell more razors, they instilled shame around having women's body hair. For the last 100 years, the idea of women's body hair was so taboo that we have been seeing commercials where razors shave completely hairless skin, and the entire shaving category refused to show it."