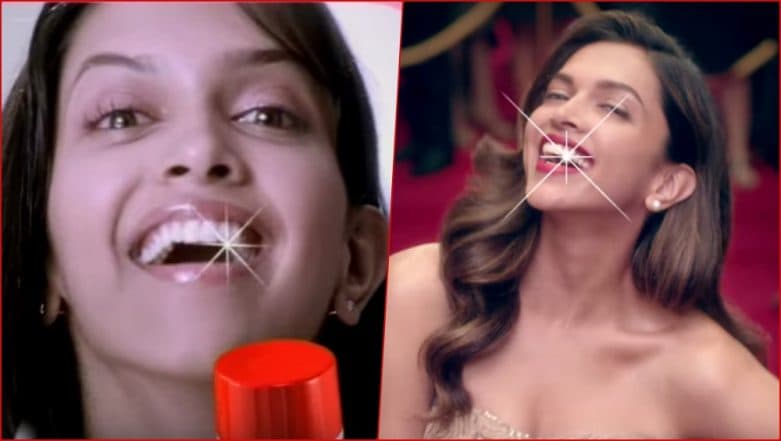 She is the Queen Bee of Bollywood, and it's her birthday today. Yes, yes, we are talking about Deepika Padukone who turns 33 on January 5, Saturday. Mastani is currently away with her Bajirao on a romantic holiday, but fans are celebrating her special day with much fun and enthusiasm. After all, Deepika Padukone's birthday is no less than a festival for DP fans in India. As die-hard fans of the dimpled-beauty, we are doing special coverage on her big day. After looking at her best fashion moments, best roles in her decade-long filmy career and her best dance numbers, we are going to see the best of Deepika Padukone's advertisements. Because, let's not forget, she is one of the most influential personalities in the country. Deepika Padukone Birthday Special: 7 Times When Mrs Ranveer Singh Swooned Us Over with Her Style Mantra, See Pics.
Kya Aap Closeup Karte Hain
The doe-eyed teenage girl with a million-dollar smile in the new Close-up toothpaste is none other than Deepika Padukone. Of course, you were too fixated with the brand's jingle "Kya Aap Closeup Karte Hain" to notice little Ms Padukone in it. So, here's the advertisement to take you back in the time! Deepika Padukone Birthday: These Traits From Actress' Roles Make Her Damn Relatable To Us!
Gulnaaz By Tanishq
She debuted as Dreamy Girl in Om Shanti Om in 2007 and Deepika has been the epitome of grace, beauty and elegance since then. And Deepika in Gulnaaz By Tanishq TVC is everything classy that will fill your heart with joy.
Wrigley's Orbit Eat. Drink. Chew
If Close-Up had Deepika as a regular, cheerful girl starting her day on a fresh note, Wrigley's Orbit and sees her nail the diva act to perfection.
Axis Bank TV Commercial
There are no dialogues, nor any jingle. Axis Bank campaign instead lets the gorgeousness of Deepika Padukone take centre stage with memorable sweet music. Shot in black and white, the beautiful montages show the actress living her life to fullest.
Goibibo Advertisement With Vicky Kaushal
The Goibibo advertisement features Deepika with Vicky Kaushal. Now the entire wedding scenario and flirting between the leads might remind you of Virat Kohli and Anushka Sharma's Manyavar Mohey, but the light flirting is much fun to watch the emo-rom-drama of Virushka.
Deepika is not only one of the highest-paid actors but is also one of the few female celebrities with the highest number of brand endorsements. Over the years, her stature has only been touching new heights, and there is no sign of slowing down. People love and trust her immensely, which makes her such a successful influencer. We wish Deepika Padukone to continue slaying the world with her charm, confidence and class! Happy Birthday, Deepika Padukone!