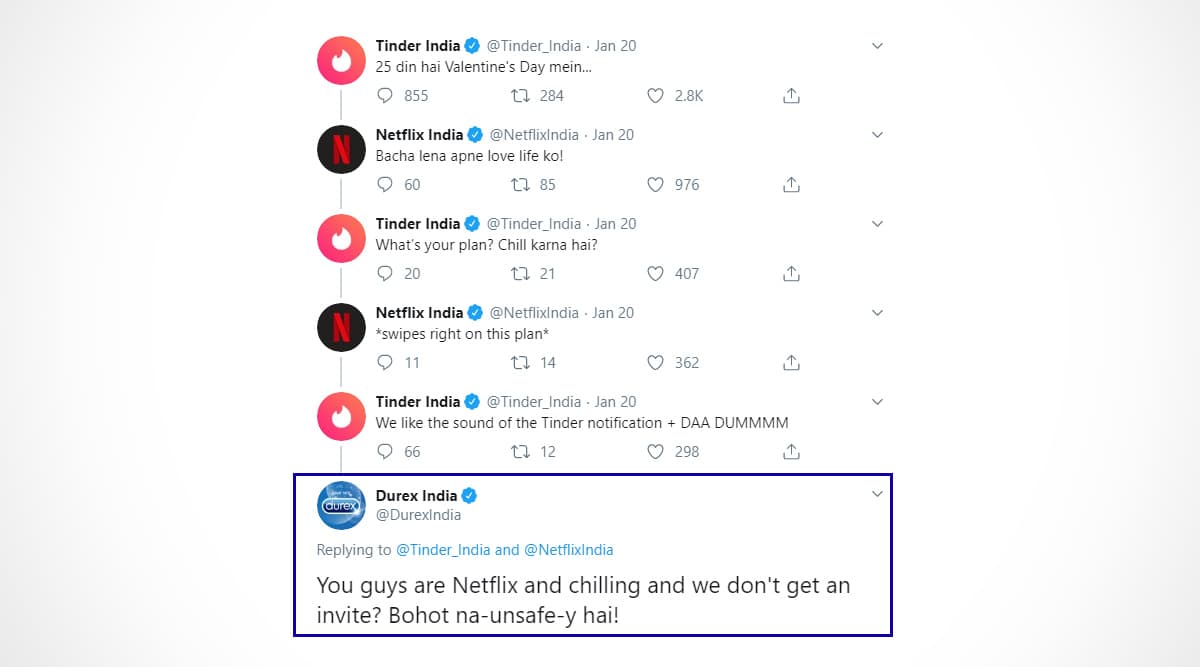 The first month of the year is ending in 10 days and the start of February begins the Valentine's Day vibes everywhere. Valentine's Day 2020 is less than 25 days away and dating app Tinder reminded their followers on social media about the day of love approaching soon. It soon became a very interesting conversation when Netflix India's account replied. The official accounts of the two apps were sharing a funny banter on Twitter when condom brand Durex joined in. Durex India's reply about safe sex on the 'Netflix and Chill' plan is brilliant. All the three brands are smartly promoting their own products and the marketing is sure on point here.
On January 20, Tinder India used a Sacred Games series reference and tweeted, "25 din hai Valentine's Day mein..." Sacred Games series has been streaming only on Netflix, so it was a perfect chance for them to reply. The two accounts then made a Valentine's Day plan to "Netflix and Chill." But Durex India's reply on their conversation was indeed a smooth finish. The geniuses of marketing were at a fine play here. Netflix India Tweets Sacred Games 2 Dialogue Asking Users For Their 'Samasya' and Offers Funny Solutions.
Check The Conversation Between Tinder and Netflix:
25 din hai Valentine's Day mein...

— Tinder India (@Tinder_India) January 20, 2020
Netflix and Chill?
We like the sound of the Tinder notification + DAA DUMMMM

— Tinder India (@Tinder_India) January 20, 2020
Here's How Durex India Joined in The Conversation:
You guys are Netflix and chilling and we don't get an invite? Bohot na-unsafe-y hai!

— Durex India (@DurexIndia) January 21, 2020
Netizens who were updated with this banter were impressed by Durex's reply. One of them called it, "Nothing but the sweetest of climax to your chill!" Someone else proclaimed that "we have a winner." Well indeed. Durex India really offered a smooth finish on the date plans. Clearly, these social media accounts are having their Valentine's Day 2020 plans right.