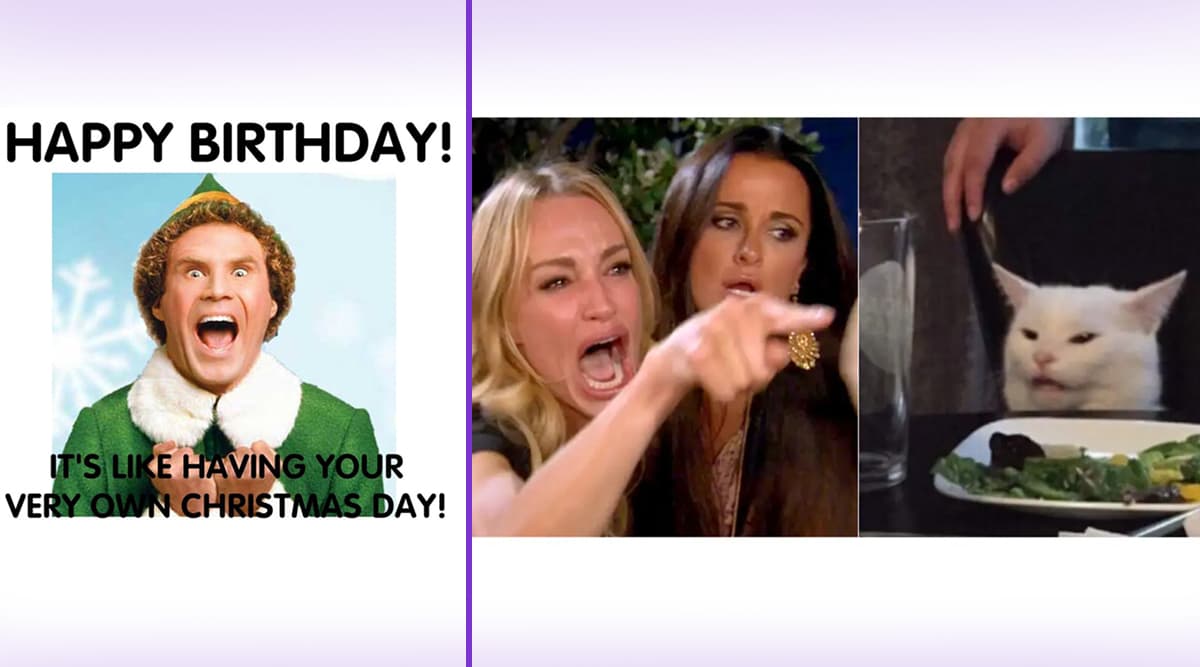 How will the 2010s go in history? It isn't very easy to even guess how our children or children's children are going to embrace this time. But we for sure now, how we will! While 2010 was not really much about 'memes,' we have seen them evolve over the past ten years. Today, we do not talk much with texts as much as we do with memes! Google trends have revealed its decade in search. And meme lovers would be happy to know that 'woman yelled at cat' meme has made it to the top searched result. In case you missed it, let us take you on a quick tour of the most searched viral memes from 2010 to 2019 that Google Trends US reveals in its "A Decade in Search." Gangnam Style, Pizza Rat to Piche Toh Dekho Boy, Watch 10 Insanely Viral Videos That Enthralled the Internet in 2010–19. 
1. Happy Birthday Meme:
Happy Birthday, Scarlett! You're a living meme. Stay problematic 😉 pic.twitter.com/fijw5tLXag

— 𝐣𝐨𝐲 (@classyromanoff) November 21, 2019
Each day, we mark someone's birthday. And we cannot wish a person better than a meme! Making funny comments about the passing of time through memes is a hilarious alternative to the usual sending of a birthday card. The search for some funny images with relatable texts for birthdays was most-searched as compared to rest of the memes. 'Happy Birthday Memes' were the top trending searched topics across the United States, as per Google Trends.
2. Dank Meme:
Y'all are welcome for this dank meme. pic.twitter.com/Keyh8e5jSM

— Will 🏳️‍🌈 (@Willrd_) December 29, 2019
The ironic expression used to describe online viral media and in-jokes that are internationally bizarre, 'dank memes' are satirically used as a synonym for 'cool.' Although the exact origin of the phrase, 'dank memes' is unknown. We have seen it grow from 2013, after YouTuber fennthulhu uploaded a parody video titled, "How 2 make dank memes!" noted Know Your Meme. This satirical expression received the second spot in the most-searched memes of the decade in US Google Trends.
3. Spongebob Meme:
don't let me flop pls n ty 😌

give me a song and i'll give u a spongebob meme 🤩 pic.twitter.com/QmeMuwagwf

— 𝐚𝐥𝐞𝐱𝐚𝐧𝐝𝐫𝐚 (@needymin) December 29, 2019
You cannot seem to log onto social media, without coming across some Spongebob memes. The grand misadventures of Spongebob, Patrick, Sandy, Squidward, Mr Krabs and of course, Plankton—the older we get, Spongebob memes just keep getting funnier! From Fiji Water Girl to Baby Yoda, Funny Jokes and Meme Trends That Made Everyone Laugh. 
4. Cat Meme:
These photos together is making me lose it pic.twitter.com/kJi9d8MpbG

— chey (@MISSINGEGIRL) May 1, 2019
Over the past years, we have seen an increasing love for cats, even more than dogs. So much, that today, there are so many cat memes in the internet sea. Their 'catitude' could not get any better explanation, other than the hilarious expression that we have today. And the most beloved cat meme has to be the one featuring a teary-eyed woman angrily yelling, another captures a particularly angry-looking cat. Yes, we are rightly talking about the 'Woman Yelling At A Cat' meme.
5. Funny Meme:
So much beauty in the world there is. pic.twitter.com/9dAGhNAaHy

— Baby Yoda (@BabyYodaBaby) December 9, 2019
It is a total round of all hilarious memes that are searched on Google. The fifth most-search term on Google trends in the United States is 'funny memes.' And naturally, there are many. From the time, when memes managed to get a place online till today, when they are saviour, funny memes of this decade compile a lot of hilarious expressions.
Trends may come and go, but Google never forgets what its users were looking for more. With the year and a decade coming to an end, the search engine giant, rightly compiled all the trending topics that people have majorly looked for. With the fandom of memes have only increased and we are too eager to see what the coming decade of the 21st century has to offer us.