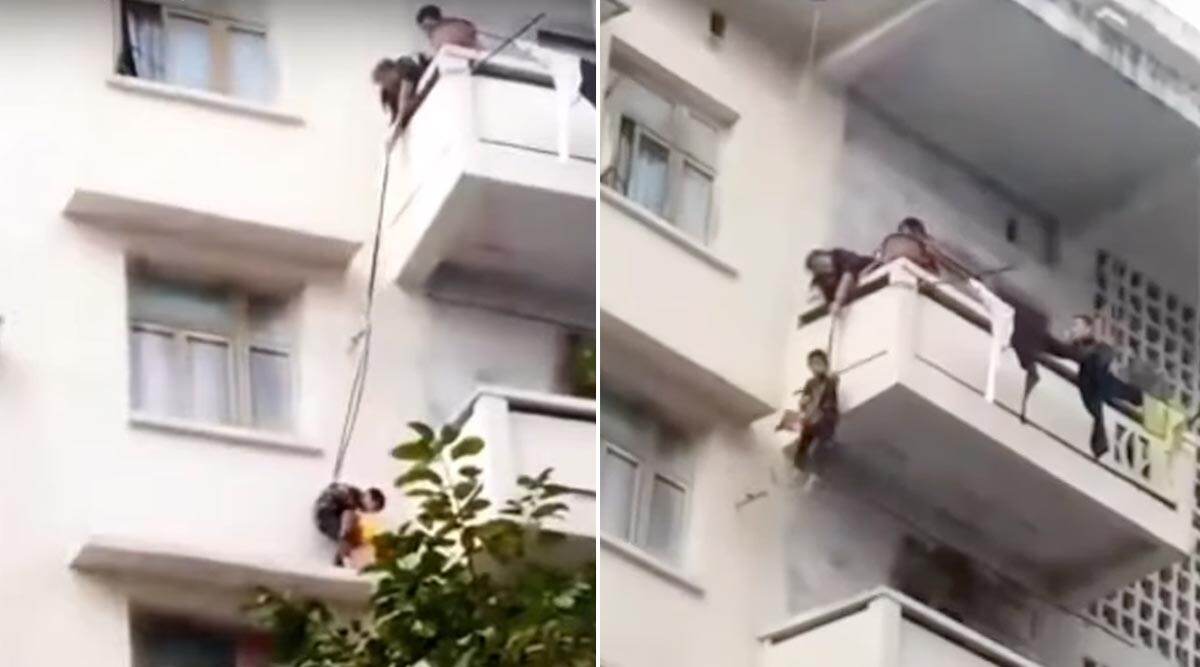 We understand people's dedication and love for their pets. But this grandma's love for her cat went over the edge! This grandmother's cat was trapped on the balcony, a level below her floor. In order to rescue the pet, she risked her seven-year-old grandson's life. How? The elderly woman dangled him from a 500-foot-high balcony to the edge of the platform for him to reach the feline. The heart-stopping moment was captured by onlookers on the opposite of the building. The grandmother was helped by a man who pulled the boy with a rope, up to their balcony. Luckily, no one was hurt, and the video has gone viral on the internet. Toddler Walks on Narrow Ledge of Apartment Building in Spain While Mother Was in Shower, Heart-Stopping Moment Caught on Camera. 
According to reports, the risky rescue operation took place in Peng'an County in Sichuan, China. In the video, the boy identified as Hao Hao can be seen standing on a tiny ledge, while being attached to the homemade 'safety' rope. Going down to the floor below, he put the cat into a bag and his grandmother held onto the rope from her balcony. The sight is terrifying. His uncle helped pulled the rope. A few moments later, the women who go by the surname Tang started to haul in the string to pull her grandson, and pet, back to their flat. It was a terrifying sight!
Watch the Viral Video:
The onlookers reportedly shouted and urged the grandmother to stop, but she refused. The above clip was uploaded on Chinese social media websites, where the woman was widely criticised for her perilous act. It was later reported that the boy's parents live in another city where they work, and the child is living with his grandparents. It was clear, whom the grandmother loved the most!