New Delhi, July 15: An erstwhile hoax message has once again gone viral on messaging application WhatsApp. The message claims that Reliance Industries Limited (RIL) chairman Mukesh Ambani has bought WhatsApp at a cost of 19 billion US dollars. Considering the rapid success of Ambani's Jio brand, a significant number of WhatsApp users could fall prey to the hoax message.
The messages are not designed merely to spread fake news. The rumour-mongers have vested interests as the messages are embedded with links which can breach your privacy, steal data from your phone, or even hack into mobile applications. In order to avoid the trouble, readers are recommended to abstain from clicking on any link forwarded alongside such hoax messages. You are also recommended to spread this report among your friends to prevent them from getting victimised by the malware attack.
Here is the hoax message of 'Reliance buys WhatsApp' going viral once again: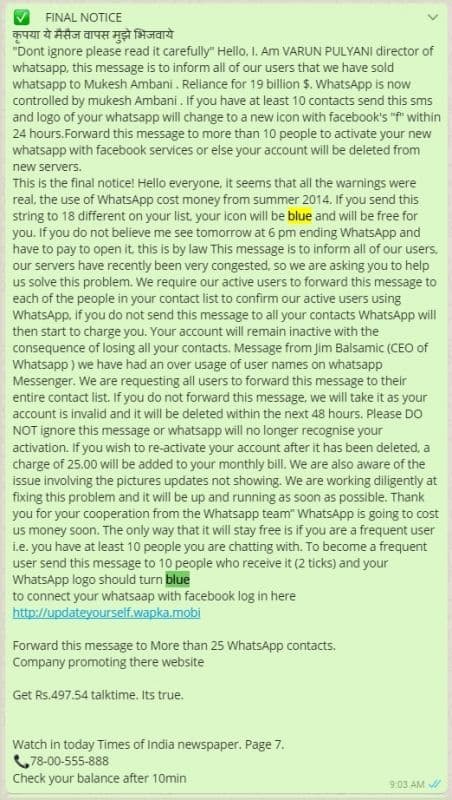 Days ago, the Ministry of Information and Technology, headed by Union Minister Ravi Shankar Prasad dispatched a notice to the top brass of WhatsApp in the United States, seeking immediate measures to curb the spread of rumour in India.
The stern action was taken by the government after a child-lifting rumour, based upon an edited clip extracted from a Pakistani public awareness ad campaign, turned fatal as 29 people were lynched based on the rumour in separate parts of the nation.
In a bid to control the spread of rumours, WhatsApp introduced a feature where the user will be able to differentiate between a message typed by a friend/contact and those forwarded. The latter would be accompanied along with a 'forwarded' tag.