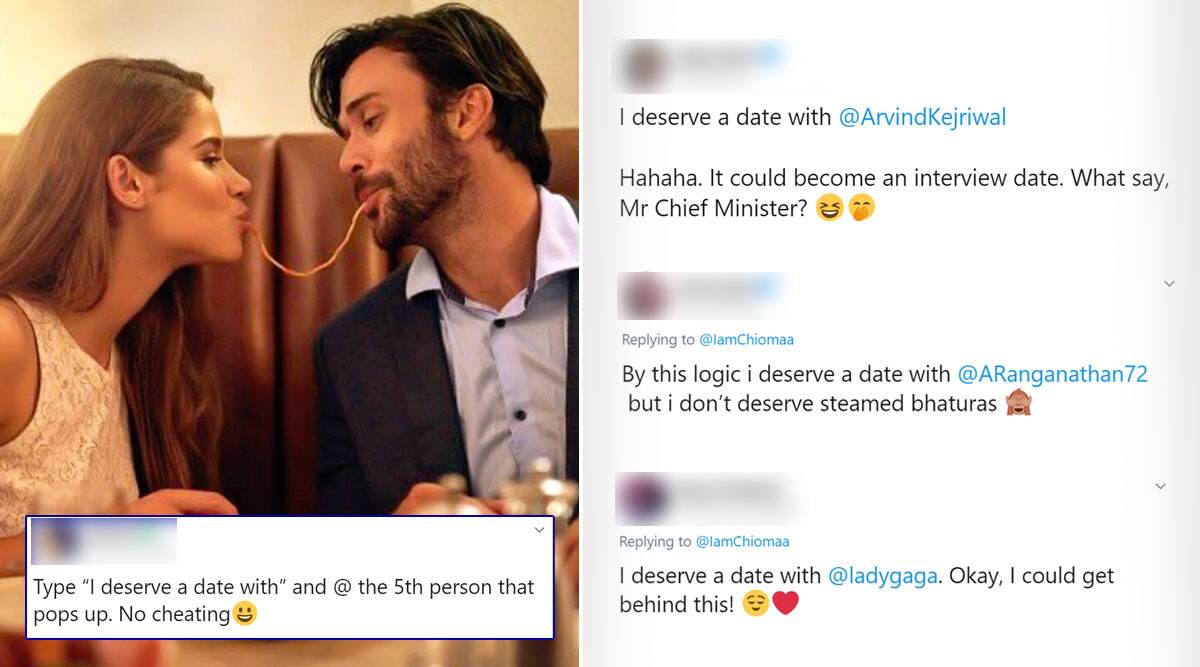 Every time you argue that social media is not a great place, you come across tweets that contradicts that statement. We have so many savage and meme-worthy moments that keep the platform engaging and light-hearted. To keep the spirit alive, a new meme has recently been originated on Twitter that goes, "I deserve a date with," and netizens will have to tag a name that comes in the line of the game. Many surprising names came up. There is also a hilarious incident of a journalist who seems to go on a date with Delhi's current Chief Minister, Arvind Kejriwal. Yes, you read that right. The current trend has got Twitterati crazy as they post hilarious tweets with surprising names for a romantic evening. You can't miss these funny memes and jokes that have taken over social media. Dog With Protest Signs is New Version of Viral 'Dude With Sign' Memes and Jokes. 
At first, let us understand the 'I deserve a date with' online thread. So, it requires you to type the above sentence and tag, the fifth person that pops up. And you cannot cheat. Twitter user, @IamChiomaa initiated the trend. She shared an image of a couple enjoying a romantic evening and captions it, "Type "I deserve a date with" and @ the 5th person that pops up. No cheating." #NewPassword Funny Memes Are Latest Internet Fad! Tweeple Are Having a Field Day Making Hilarious Jokes for New Password. 
Here's the Tweet:
Type "I deserve a date with" and @ the 5th person that pops up. No cheating😀 pic.twitter.com/geDlim1ro8

— Chioma 🇳🇬 (@IamChiomaa) January 21, 2020
Netizens have some impressive responses. After all, who doesn't want to go on a surprise date night? So many names have appeared. From pop icon, Lady Gaga to Delhi's CM Arvind Kejriwal, you will have to see the tweets to believe what is buzzing on the internet. Sun Chanting Om? Funny Memes And Jokes Take Over Twitter After Kiran Bedi Tweets Fake Video. 
Check the Hilarious Responses!
I deserve a date with @ladygaga. Okay, I could get behind this! 😌❤️

— king of babylon (@stupidlovegaga2) January 24, 2020
LOL!
By this logic i deserve a date with @ARanganathan72 but i don't deserve steamed bhaturas 🙈

— Sonal Kalra (@sonalkalra) January 23, 2020
LMAO!
I deserve a date with @realDonaldTrump oh... lmao

— Reem Sabra (@reemanelle) January 23, 2020
What Do You Have to Say, Mr Kejriwal?
I deserve a date with @ArvindKejriwal

Hahaha. It could become an interview date. What say, Mr Chief Minister? 😆🤭 https://t.co/vsb2lmUxy0

— Zeba Warsi (@Zebaism) January 23, 2020
Almost Everyone After Seeing Those Names:
Date 🥳🥳🥳 pic.twitter.com/xrVPKKUA1A

— CHEEKU 🌼 (@Okay_Bye___) January 23, 2020
Have you tried the 'I deserve a date with," trend yet? Don't wait for too long. Surprise yourself with the name that pops up. It could be your crush too! Don't miss out on the fun and join with the rest of Tweeple to make some more memorable and hilarious moment on social media.