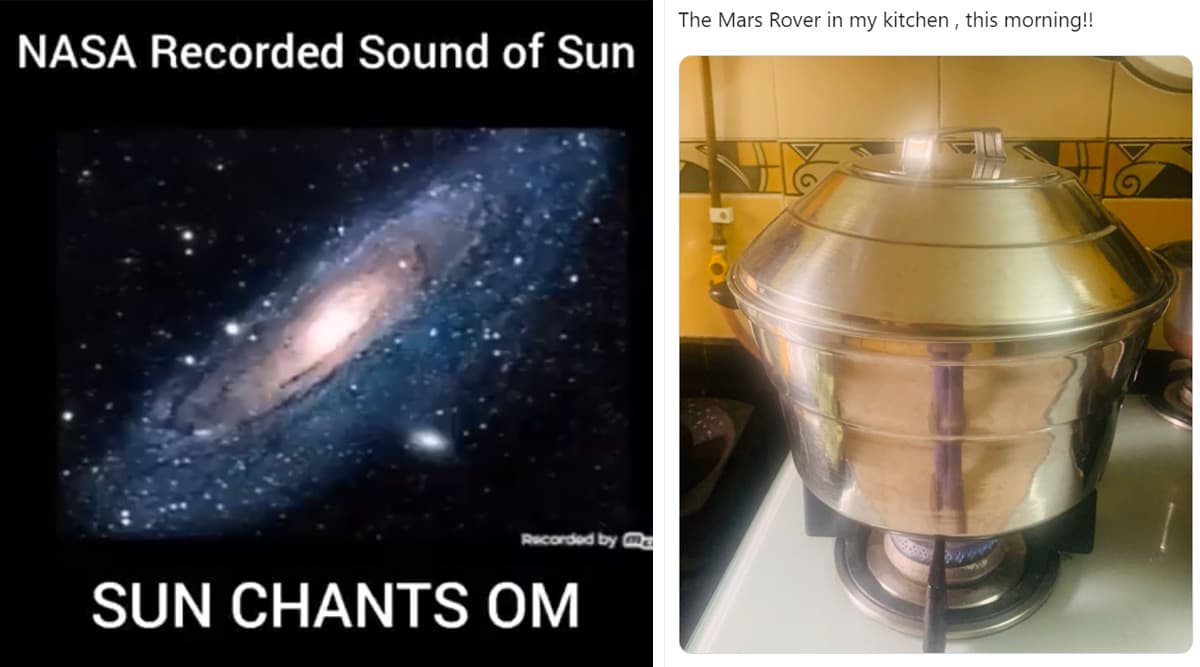 An old video of NASA which recorded the sound of the Sun is going viral after Puducherry Lieutenant Governor and former top cop Kiran Bedi mentioned about hearing the sound of Aum (Om). Her claim has now become the new fodder of jokes and memes online. The humming noise of the Sun was released by NASA in July 2018. Bedi shared a 1 minute 50-second long video this morning which reads, "Nasa Recorded Sound of Sun, Sun Chants OM." No sooner, people started trolling here. It is actually a deep hum of our sun recorded in loops and it is edited footage, to make it sound like the chant.
Making memes has become an instant reaction of netizens. So when Kiran Bedi posted that video, she became the new target of jokes. Funny memes with people's own interpretations, the Sun's reaction in this case or be it Bedi's lack of knowledge are now surfacing online. Shashi Tharoor Faces Twitter Wrath For Using the Word 'Prepone', Twitterati Expresses Shock and Disbelief Over Congress Leader's 'English' Error.
Here's the Video of Sun Chanting Om Shared by Kiran Bedi:
— Kiran Bedi (@thekiranbedi) January 4, 2020
People trolled her hilariously and funny memes followed.
How Mars Rover Looks Like
The Mars Rover in my kitchen , this morning!! https://t.co/Csc48kXBEB pic.twitter.com/RaMlXxoHqe

— Mini Nair (@minicnair) January 4, 2020
The Sun Be Like...
Meanwhile The Sun: https://t.co/QedW28YQYZ pic.twitter.com/zVxcjnRTMa

— Hum Dekhenge ✊🏽 (@charlesbritto) January 4, 2020
Hehehe
When Hydrogen (H) gets Converted into Helium (He) in the Sun by the Process of Nuclear Fusion the sound which comes are HeHeHeHeHeHeHeHeHeHe. ~ IIT Kanpur.(2019) https://t.co/42GaPUiAcp

— History of India (@RealHistoryPic) January 4, 2020
Om or NaMo?
Wrong. The Sun said NaMo NaMo.

You should've checked the UNESCO version along with the NASA version. https://t.co/FrolGOX9DP

— Saket Gokhale (@SaketGokhale) January 4, 2020
Results of WhatsApp
This is the result when you are free and spend most of your time on WhatsApp.#मोदी_एंटीनेशनल_हैं https://t.co/u3vALFq6FD

— The Dalit Voice دلت آواز (@ambedkariteIND) January 4, 2020
The video is clearly edited and when someone of such stature shares such content with the public, it could be looked at as authentic by the uninformed. The original video has compiled the hum of the dynamic movement of the Sun's atmosphere for over 20 years. This sound has helped the scientists study what can't be observed with the naked eye.