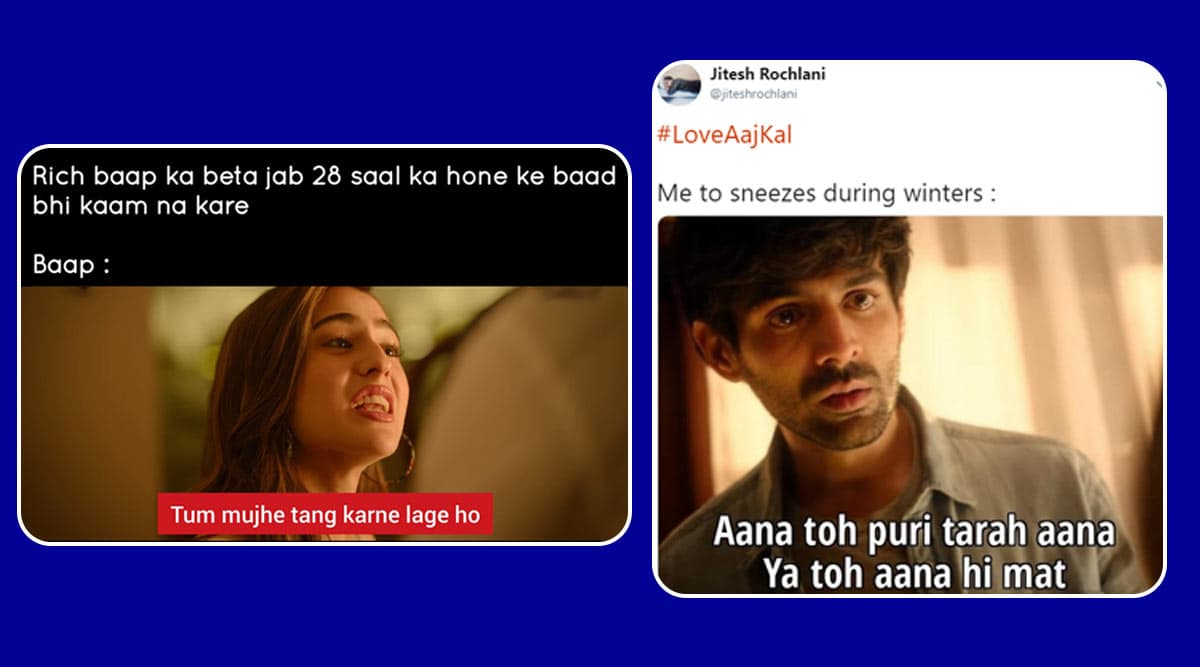 The trailer of Imtiaz Ali's new film Love Aaj Kal is here and if you are a meme-lover then you know it's a new target for making memes and jokes. It has almost become a norm these days to make memes out of new posters, first looks, trailer or songs. And soon as the trailer of the film starring Kartik Aaryan and Sara Ali Khan dropped, the reactions have started coming in. And so are the funny memes and jokes.
The trailer shows quite a charming chemistry between the lead pair and definitely have an Imtiaz Ali charm to it. The whirlwind romance tale between Veer (Kartik) and Zoe (Sara) spans across two decades. It is a tricky love tale that we saw Saif Ali Khan and Deepika Padukone play out in the year 2009. And now with Saif's daughter returning as the main lead, fans are of course excited. Soon as the trailer dropped off, funny memes and jokes have also started trending online. It is Kartik Aaryan's dialogue, "Aana hai toh puri tarah aao.." which has become an audience favourite. Malang Trailer Funny Memes: Disha Patani and Aditya Roy Kapur Starrer Inspire Some Hilarious Jokes on Twitter and We Can't Stop Laughing! (View Tweets).
Check Some Funny Memes and Jokes on Love Aaj Kal Trailer:
Bike Lovers!
Every KTM bike ever...#LoveAajKal @TheAaryanKartik @MaddockFilms pic.twitter.com/9Xl4QNhFd9

— Suraj (@Madhubala108) January 17, 2020
Those Who Didn't Get it!
After watching #LoveAajKal trailer pic.twitter.com/SMt6hTJKfr

— Shana Launda (@shanalaunda) January 17, 2020
After watching Nolan ali's #LoveAajKal trailer , audiences pic.twitter.com/VV6E9a4t88

— 🇮🇳👑 ShruvArjunkaFan👑🇮🇳 (@shruvkhan) January 17, 2020
Typical Couples Be Like...
When you stop asking "Mele babu ne thana thaya"

She: pic.twitter.com/WgJtN5fM3Z

— Pratik Nagar (@Praticastic) January 17, 2020
Love is in The Park
When Police saw couple in park

Police :-#LoveAajKal #loveaajkaltrailer pic.twitter.com/RCocTBkNRb

— mahendra (@OMaddy2593) January 17, 2020
Major Relate!
Me to sneezes during winters : pic.twitter.com/3jN1iMELKe

— Jitesh Rochlani (@jiteshrochlani) January 17, 2020
How Many of You?
When ur US friend tells he will visit India but will not bring anything with him #LoveAajKal #LoveAajKal2 pic.twitter.com/sVRWDqBliS

— Sir Yuzvendra (parody) (@SirYuzvendra) January 17, 2020
Rich Kid Problems!
#LoveAajKal #LoveAajKal2 pic.twitter.com/7b6fYRhA4m

— snowbell 😼 (@snowbillu) January 17, 2020
Mummy Y U Do Dis?
Me: saari sabji leli hai...bas dhaniya nahi mil raha..aa jaun wapas?

Mom: pic.twitter.com/JTJ35faJq9

— Sir Yuzvendra (parody) (@SirYuzvendra) January 17, 2020
Here's The Trailer of Love Aaj Kal:
Clearly, the trailer has resonated with the meme-makers and meme lovers too! The tricky romantic tale is releasing on Valentine's Day 2020. SarTik fans definitely cannot wait for this rom-com.