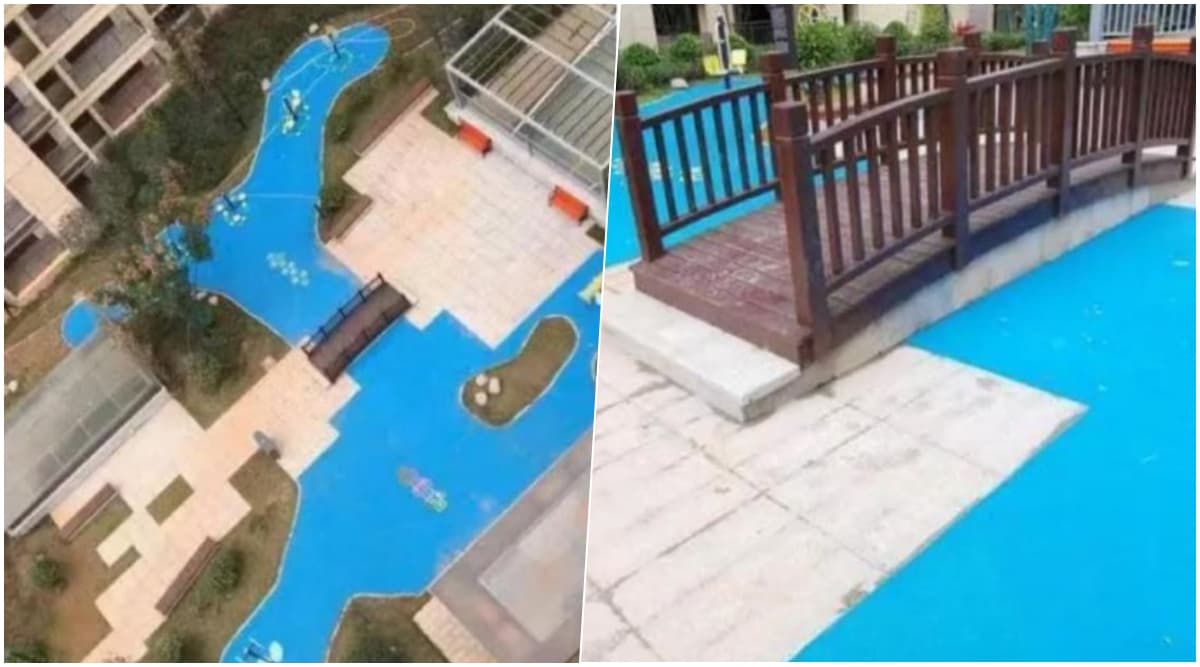 Buying an own home is a dream come true for many. But imagine, being cheated on the park views and releasing all of it is just plastic! That would be such a disappointment and that's exactly what happened with owners of a flat in Central China. A new complex in Changsha had apparently promised natural park views in its residential project development. And who wouldn't love such an idyllic house? But the owners of the flats were shocked when they found out that there was no park but just some plastic cover laid over the ground. The area covered in a plastic material was made to look like a lake with a bridge. Pictures of this plastic "pool" were shared in Chinese social media Weibo and they quickly went viral. Python Measuring 13-feet Hid in China Spa Ceiling For 10 Years, Found After Falling Through Plasterboard.
Homebuyers bought a new apartment in residential development which mentioned "high vegetation cover" and "park lifestyle". On contacting the real estate developer Changsha Shiji Yujing Real Estate, they said they never mentioned any lake on the premises but suggested a natural idyll. All the homeowners who were handed over the keys on the weekend were shocked. As per reports in the South China Morning Post, one of the owners said, "So I'm supposed to be standing in the middle of blue water, which in fact doesn't exist. There is no rock or plants." Fish From China With a Human-Like Face Goes Viral on the Internet! Netizens Freaked Out (Watch Scary Video).
Here's a Glimpse at How The Construction Looks:
So previous posts were way too depressing, here, some good laugh for you all -

This property company in Hunan built a plastic lake in replace of the "park view" they promised the homebuyers.

Oh China.. sounds about right. #chinazi pic.twitter.com/bON9uz74l2

— Kemba852 (@kemba852) November 20, 2019
Watch Video of the Fake Plastic Lake on New Residential Property:
Instead of the grass paving, the area was just covered in yellow mud. This poor construction makes it look like a car park area instead of green vegetation. But the developer said the blocks were built so for "fire safety requirements and landscaping needs." While it is really a sad state of affairs that people online are laughing at, imagine the plight of the poor owners who would have to stay here in future.