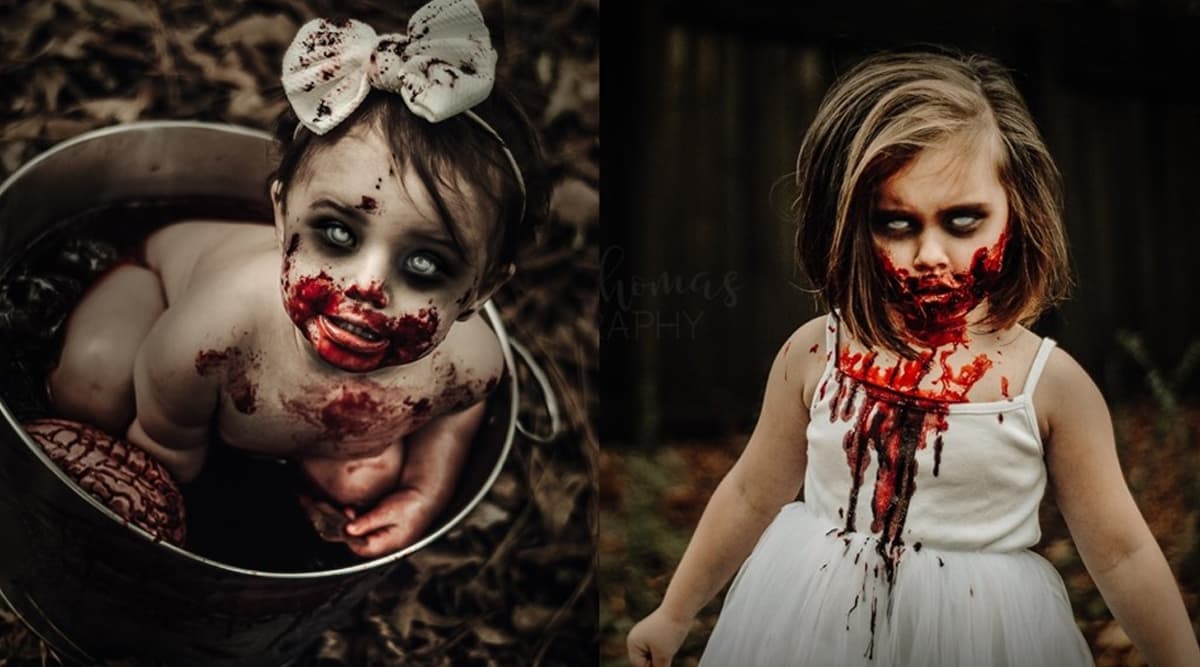 If you are scrolling up on your social media feeeds then you'd have observed things are getting spookier as Halloween 2019 approaches. With just about a week to go for the observance, people have started experimenting with their Halloween looks, pets are dressed in Halloween costumes, and all the jazz. But a mother's attempt at doing a Halloween photoshoot has majorly backfired with she getting death threats. Carlee Thomas, a 25-year-old photographer from Alabama made her kids look like zombies and posted the pictures on social media. Not only did the pictures go viral, but people were unimpressed. A lot of trolls wished more bad for her than good. She got death threats and was called evil names in the messages. Halloween 2019 Costume Ideas: Mom's Crocheted Alien-Themed Dresses Impress Netizens (View Viral Pics and Videos).
From telling her to kill herself and hoping she dies in her sleep, Thomas' Halloween photoshoot ended up in creating quiet a horror for herself. "The hate messages started rolling in, I got a minimum of 200 angry and hateful messages," she told in a report to The Sun. Carlee Thomas works as a professional photographer and horror is the genre which she enjoys. But her way of getting creative unfortunately did not appeal to everyone. She used her own daughters, one-year-old Caroline and four-year-old October to be her models. The pictures also were quite spooky.
Here Are The Halloween Snaps:
Creepy!!
Bloody Brilliant?
Quiet a Nightmare
These pictures soon went viral but the outcome was not so praiseworthy. Everyone commented on how she must have tortured her babies for the photos. But she explained, "The actual blood part is strawberry [jelly], water and chocolate syrup. It tastes like chocolate-covered cherries, so both the girls love it." She added that her daughters enjoyed doing the photoshoot instead. Also adding that most of the horror part was added later in the editing, and her girls did not have to wear lenses for the scary eyes. Maleficent Halloween 2019 Costume Idea: Easy DIY Ways to Dress like the Mistress of Evil on October 31 (Watch Tutorial Video).
The family had been doing this kind of photography every year, but she would not post them online. She happened to show these pictures to her friend who said she should post them on social media. She has explained to the trolls that no harm was done to her kids while doing the photo shoot. As the pictures have gone viral, she also has no intentions of taking them down too. No doubts about her brilliant work but not everyone is comfortable seeing bloodied faces of children on their feeds.