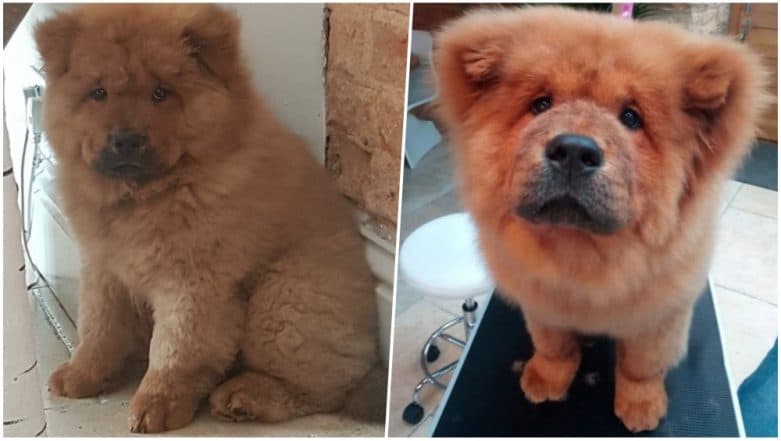 A four-month-old chow-chow puppy called Bungle was roaming in the streets of Towcester in the United Kingdom, last week. He got a bit too excited after getting loose near his home. When the officers tried to catch and tie him up, Bungle bit an officer's arm and hand. Sooner than he realises, Bungle was in big trouble! He was detained under the United Kingdom's Dangerous Dogs Act, faced up to nine months in puppy prison. Reportedly, the dog's bit did not seriously injure the individual. This created outrage on social media. Netizens created online campaigns to free the insanely cute Bungle. Dog Killed Owner? British Farmer Crushed to Death by Forklift Truck Accidentally Driven by His Pet. 
Mashable reported that the owners, David and Susan Hayes felt that the police's actions were "disproportionate" considering Bungle is only a puppy. Individuals who own a puppy knows that they do not have the best manners and are still learning to what is fine to put in their mouths and what not. The owners unleashed an online campaign to free the fluffy pooch. Everyone heard Hayes's pleas. Bungle has now been released after spending five days in custody. Over 10,000 people signed to the petition and eager activists joined a Facebook group which got over 5,600 members looking for the pup's freedom. 'The Lion King' Scene of Rafiki Holding Simba Recreated by Twitterati With Pet Dogs & Cats and the Pics Are Too Adorable. 
Here is the official statement released by the Northants Police. 
A Chow dog that was seized by officers under the Dangerous Dogs Act, after biting an officer twice, has been returned to its owners who have agreed to a Voluntary Control Order (VCO) and have been cooperative throughout.

More here - https://t.co/N2Gov2CI4e

— Northants Police (@NorthantsPolice) November 22, 2018
After Bungle returned home, the Northamptonshire police department released a statement denying the release had anything to do with social media outcry. Backing the department's decision to seize the puppy, Chief Superintendent Chris Hillery said in the statement, "To be absolutely clear, I fully support the officers' actions, in this case, the dog was unattended in a live carriageway and was aggressive to those present resulting in the officer being bitten and receiving injuries that required hospital attention."
Now all the attention is on Bungle! After spending time behind bars away from his family for five days can change a pup. He could be little worse to the bone! But thank god for social media that Bungle is back to his family now.