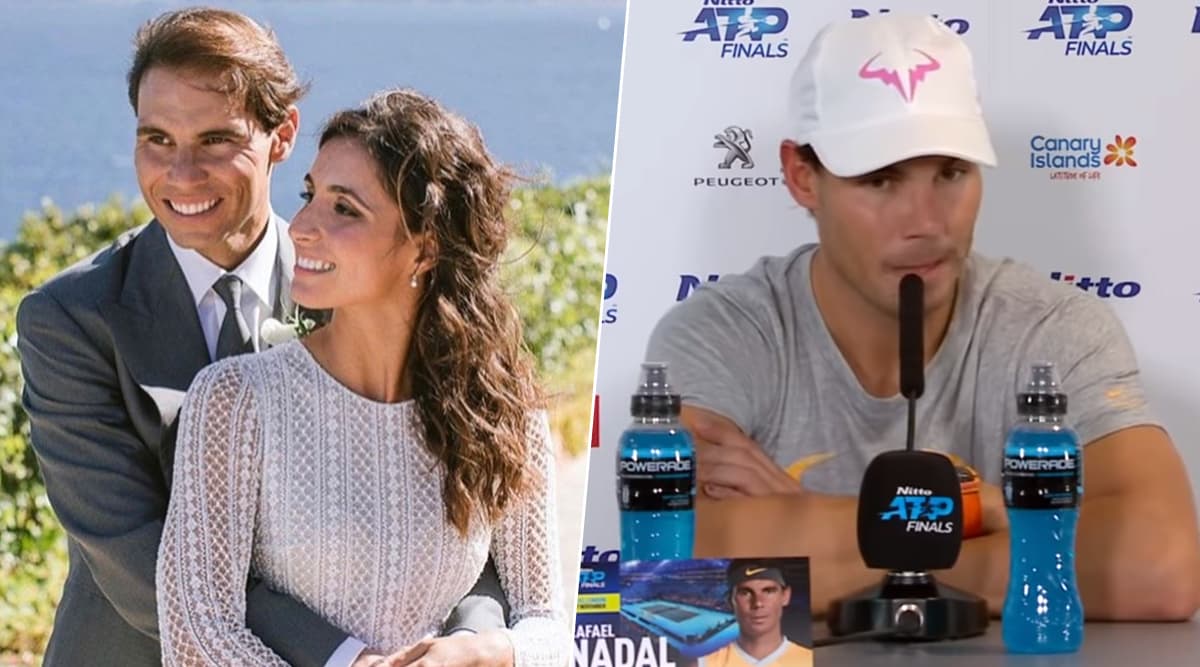 Certain reporters have had some of the worst takes on sportsmen's defeats. Just recently, Rafael Nadal was at the receiving end, after this journalist asked the most "bullsh*t" marriage question to the tennis star. While Rafael was answering questions in a post-match conference after losing to Alexander Zverev in the ATP World Tour Finals on Monday, Nadal was asked the most absurd question of the century, leaving him speechless and angry. The number one tennis star in the world was asked by an Italian reporter, Ubaldo Scanagatta, about his wedding causing an influence on his game and performance. The journo asked Nadal if it was his marriage that if it was affecting his performance and caused the defeat in the finals. Nadal and his girlfriend of 15 years, Xisca Perello got married in Mallorca on October 19. Anushka Sharma Mercilessly Trolled For Accompanying Virat Kohli to DDCA Annual Honours 2019 Ceremony!
However, the reporter's question infuriated the tennis star and caused him to call it a "bullsh*t" question. He was initially shocked by the unexpectedly weird and shallow question that came his way. And once he found some words he asked to move on to the Spanish part of the press conference. Here's a rundown of the conversation that took place between the reporter and Rafael Nadal.
Scanagatta can be heard saying: "Tonight, you were playing very short many times ― I don't know why, you're not used to that. I'd like to know, for many people to get married is a very important, distracted thing. Before the marriage, during the marriage, after the marriage,"  He goes ahead to say, "Your concentration on tennis life has been [a] bit different even if you were going out with the same girl for many, many years."
Nadal replied to the journalist in disbelief. He said, "Honestly, are you asking me this?"
"Is this a serious question or a joke? Is it serious? Yeah?" The tennis player could be seen rubbing his face, after which he said, "It's a big surprise you're asking me this after being with the same girl for 15 years and having a very stable and normal life. It doesn't matter if you put a ring on your finger or not," Nadal said. "In my personal way. I am a very normal guy. Maybe it was for you ― how long have you been with your [wife]?" When the reporter said that they'd been together for 30 years, Nadal replied, "And before? Ah, maybe before you were not sure. That's why. OK. We move to [the] Spanish [interview portion], because that's bullshit." He ended it with a stern "Thank you very much".
Rafael Nadal Press conference after his match against Zverev / ATP Finals 2019 (Watch Video):
In India where cricket is almost as important as religion, Anuska Sharma is always blamed for Indian Cricket Team's captain Virat Kohli's performance. Virat Kohli has always taken a stand against such media persons and gave it back. However, the absurdness increased so much that Anushka finally broke her silence and gave it back to the trolls in a strongly-worded tweet. Check out:
— Anushka Sharma (@AnushkaSharma) October 31, 2019
Anushka Sharma's outburst came after former India cricketer Farokh Engineer attacked the current Indian selection committee led by MSK Prasad and even called it a mickey "mouse selection committee". Well, we can only wish that the trolls stop blaming sportspersons' partners for their performances.